ArtDiva Bus Tour | FROST Art Museum's ART After STONEWALL, with JUANITA LaBANGEE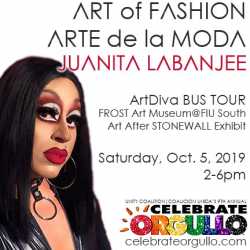 When:
Saturday October 5 at 2:00PM

Where:
Frost Art Museum at FIU

Visit Website
About:

THE FROST ART MUSEUM FIU is one of the largest free-standing art museums in Florida, the Patricia & Phillip
Frost Art Museum at Florida International University was founded in 1977 and is the Smithsonian Affiliate in Miami.

Patricia & Phillip Frost Art
Museum at FIU
Modesto Maidique Campus
10975 SW 17th Street, Miami, FL. 33199

The museum's new lakeside building debuted in 2008, designed by Yann Weymouth (the chief of design on the I.
M. Pei Grand Louvre Project). The museum's mission is three-fold: to be a campus resource for the entire FIU
community; to offer interdisciplinary training in the arts for the next generation of artists and art historians; and to serve as a premier cultural destination for the residents of Miami, and the 15 million visitors to one of the world's most vibrant cultural destinations - home to global cultural events including Art Basel.

The museum is accredited by the American Alliance of Museums. More information at frost.fiu.edu


FROST Art Museum@FIU
TOUR of Art after Stonewall, 1969-1989 EXHIBIT
with your ArtDIVA, JUANITA LaBANJEE!

Organized By: Columbus Museum of Art
Exhibition Opening | Saturday, September 14 from 4-7pm
Coinciding with the 50th anniversary of the Stonewall Riots of 1969, this groundbreaking survey features more than 200 works of art and related visual materials that explore the profound impact of the Lesbian, Gay, Bisexual, and Transgender (LGBTQ) liberation movement on visual culture.

The exhibition focuses on both the work of openly LGBTQ artists as well as the practices of artists engaged with newly emerging queer subcultures. Art after Stonewall highlights a wide array of performance, film, and video art, as well as photography, painting, sculpture, music, along with many historical documents...