ART Diva Bus Tour | Downtown Miami Design Studios with KARLA CROQUETA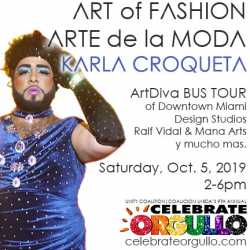 When:
Saturday October 5 at 2:00PM

Visit Website
About:

DID YOU KNOW that the City of Miami is the ONLY city in the WORLD, founded by two women? Julia Tuttle & Mary Brickell.

Visit iconic buildings such as the Alfred I Dupont Building, the Ingraham Building and more - and enjoy Ralf Vidal's designer salon, the Mana Contemporary Miami studios. One of Miami's most iconic Drag Performers, QUEEF,has a storefront shop here, so get ready to be blown away.

RALF VIDAL | Creative Powerhouse, Costume Designer and Illusionist, Vidal has created iconic looks for the Who's Who of the worlds stages, clubs and dance floors. Miami Club legend Alan T, House of Lords father Rodger Lords, Patricia Fields, and many others have counted on his designs and one of a kind pieces.
His studio salon in the historic Igraham Building is a step into a fantasy world of feathers, headdresses, ribbons, mirrors and pretty much anything else that has inspired Ralf to create. He also has a line of t-shirts on other original products
in his studio pop up shop, so come ready to BUY!

MANA CONTEMPORARY MIAMI | Based in the historic 777 Int'l. Mall in Downtown Miami, Mana Contemporary Miami is a growing arts center that unites artist studios, exhibition spaces, & programming to facilitate conversation and collaboration among its creative community.

Established in 2017, Mana Contemporary Miami is primarily
focused on connecting with Miami-based artists & organizations, with the idea of further creating new avenues for conversation and opportunities, ultimately serving as an ongoing platform to engage Miami arts and culture in dynamic and sustainable ways.