Topics :: Spain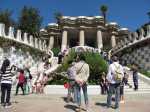 Spanish government figures show the country received a national record of 82.6 million foreign tourists last year.
The restive Spanish region of Catalonia faces a potential $500 million financial hit in the fourth quarter as business-related travel dips following the attack in Barcelona and the uncertainty generated by the disputed independence referendum.
Keep the crowds and high prices in the rearview mirror by renting a motorhome or RV (usually called camper vans or caravans in Europe) and experience Spain's scenic Mediterranean coast.
The quickest dash yet at this year's running of the bulls left two Spaniards injured but no one gored at the San Fermin festival on Tuesday, officials said.
Around 400 people have protested bullfighting in Pamplona, a week before the city hosts its famed festival featuring dangerous bull runs.
It's an easy day trip from Valencia and it's also a trip back in time: a visit to the castle in Sagunto.
Officials in Spain say the number of tourists visiting the country has soared by 10 percent in 2016.
Spain is about to pass 300 days without a government. But guess what? Few Spaniards seem bothered by that as the country's economy roars ahead.
An American was gored and five other runners were injured Wednesday in the next-to-last running of the bulls at Pamplona's San Fermin festival, officials said.
Thousands of people erupted in party mood Wednesday, dousing each other with wine and singing and dancing in the streets of this northern Spanish city to celebrate the start of Pamplona's famed San Fermin running of the bulls festival.