Topics :: Las Vegas Gay Pride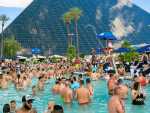 Las Vegas is rolling out the rainbow carpet this year with signature events, including the tenth anniversary of Temptation Sundays at Luxor, as well as Pride, Dining Out For Life, and Bigger Vegas.
The first installment in EDGE's Las Vegas Insider series, Jim McMichael from the Las Vegas Convention and Visitor's Authority offers his picks for where, when and how to experience the best of Vegas.
Las Vegas PrideFest 2014 held its closing party in the Revolution Lounge at the Mirage Hotel. It was the perfect end to a fabulous week of fun. Check out the pics!
Vegas Pride began with a night parade with singer Kristine W as the grand marshal. Followed by the Pride festival with vendor booths and an entertainment stage in the park. Finishing off the weekend was a Gay Days pool party hosted by the Luxor Hotel.
Las Vegas PRIDE 2014 held its annual festival in the heart of Sin City. There was food, music, dancing, and fabulous people. Check out the pics!
Las Vegas Pride 2014 held their Kickoff Party at Charlie's Las Vegas. It was a total blast. And it's only the beginning. Check out the pics!
How entertaining is Las Vegas as of late? We sent a writer to "go down" on Vegas... downtown, that is, as well as explore what's hot on the Strip.
The 2013 Pride Festival closing party was held at the Marquee Nightclub in the Cosmopolitan Hotel. It marked the end of the most successful Pride festival in Vegas history. Check out the pics!
The yearly nighttime Pride parade through downtown Las Vegas is a fabulous affair, and for 2013 it was bigger and better than ever. EDGE has the photos!
Las Vegas Pride 2013 was truly a celebration of diversity. Sin City has never been more fabulous! See for yourself!