Top Story
An openly gay 23-year-old Saudi man who is an online personality has been arrested and charged with "sharing nudity online" after having posted a photo of himself at the ...
1 thru 10 of 49999 Stories
A gay NYC man recounts being propositioned on the street by a stranger who then subjected him to a brutal attack and robbery.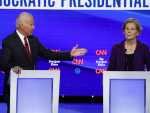 Voters got a better look at Democrats' health care priorities on Tuesday, as 12 of the leading candidates vowed to codify abortion access, threatened to jail opioid company executives and added a few more details to their health plans.
A dozen Democratic presidential candidates participated in a spirited debate over health care, taxes, gun control and impeachment. Takeaways from the three-hour forum in Westerville, Ohio.
The impeachment inquiry is revealing vivid new details about the high-level unease over President Donald Trump's actions toward Ukraine and those of his personal lawyer Rudy Giuliani as the swift-moving probe by House Democrats shows no signs of easing.
Actresses Rita Moreno and Gina Torres and Olympic gymnast Laurie Hernandez have been named grand marshals of the 2020 Rose Parade.
Bernie Sanders and Elizabeth Warren don't just lead the Democratic presidential primary in fundraising. They've stockpiled millions more than their rivals, including former Vice President Joe Biden.
France's lower house of parliament on Tuesday overwhelmingly passed a bill that aims to give single women and lesbian couples legal access to in vitro fertilization, egg freezing and fertility medication.
With each serving of French press coffee poured delicately into a cup with steamed milk, 21-year-old Afghan refugee Fatemeh Jafari lives out a dream in her basement coffee shop in Tehran that is out of reach for millions like her in Iran.
Voters are more concerned with how much they have to pay for medical care, like prescription drugs, but whose plan is most comprehensive?
"Desperate Housewives" star Felicity Huffman reported Tuesday to a U.S. prison in California to serve a two-week sentence in a college admissions scandal, a representative said.
1 thru 10 of 49999 Stories