Alice In Wonderland
Alice in Wonderland is a fairly far spit from "Alice's Adventures in Wonderland" - those knowledgeable in English literature will recognize the latter as the true title of Lewis Carroll's rabbit-hole fancy. In fact, it's far more sane than either Carroll's original tale or indeed than most of Tim Burton's films - which is somewhat a surprise after the somewhat radical insanity of Charlie and the Chocolate Factory, given the ludicrous source. I'll admit I'm not an "Alice" fan insofar as I enjoy my stories with purpose, rather than a flowing stream of lyrical, albeit beautiful, nonsense. Evidently, Burton agrees; he's imbued Carroll's story with a modern spine of female empowerment. Purists will most likely hate the shift; I thought it resulted in a fresh, charming little film.

Burton places the early action far from the ennui of a lazy afternoon; rather, Alice (Mia Wasikowska) is attending her own engagement party to a drippy buffoon (Leo Bill) from whom she runs with all alacrity after he proposes to her in front of the crowd. The fact that she follows a well-dressed rabbit (Michael Sheen) peeking at his pocket watch down into his hole is of secondary importance. She nevertheless tumbles down to Underland (long story) where she encounters a rather familiar set of characters: smiling cat (Stephen Fry), blue hookah-smoking caterpillar (Alan Rickman), and of course, the loony Hatter himself (Johnny Depp). They all seem to ask the same two questions: first, is she the right Alice? And second, will she, as fated, take up the legendary Vorpal sword, and, on behalf of the slightly unhinged White Queen (Anne Hathaway), defeat the decapitation-happy Red Queen (Helena Bonham Carter)?

In concert, we wonder silently: have Depp and Burton retained their muchness via this somewhat ludicrous-looking film?

The answer to all three is, of course, yes. Wasikowska's Alice is the right heroine for the film, just as Wasikowska is the right actress for the part. She's winsome and pretty - how odd for protagonist in a Burton film. She's also willful, which for the story of Alice, is also a bit of a shift. Perhaps that's why Burton makes her "an" Alice rather than stipulating precisely that she is "the" Alice who previously fell down the rabbit hole - either way, she's an eminently likeable character who is unwilling to simply follow the story laid out by others for her; petulantly stating, "I make the path," she insists on rule-breaking, free-will behavior that keeps audiences invested.

Depp is a delight as the Hatter; aside from flashes of Captain Jack peeking through his accent, his Hatter is thoroughly original, a slightly off-kilt, wounded artist whose affected mannerisms perfectly match his erratic, often hysterical, efforts making hats - and the occasional dress for the perpetually growing/shrinking Alice.

Carter is the perfect foil, her oversized head and bee-stung lips offset by a droll delivery that underscores her propensity for head-severance. She's a pitch-perfect bitch whose unfair lot in life includes her fated destruction at the hands of a teenage girl (for further references, see "Yellow Brick Road"). A few of the other actors - Sheen, Fry - are underutilized, although Rickman's characteristic verbal snarl imbues the caterpillar with a delightful sense of self-importance (to a point). And if Hathaway seems somewhat off her head in the role of the White Queen, it's all for the good: with this charismatic group, quirky is as quirky does.

Ironically, it's the 3-D technology that'll leave audiences flat. Not only is the picture too dark from behind the glasses, it also wants for motivation. No doubt the fact that the picture was shot in 2-D and then stereoscoped in post-production left the effect a bit dry, but for all the aggravation of watching through lenses, Alice barely pops off the screen. It's not a true detriment to enjoying the flick, but it'll leave you wondering.

No matter; Alice in Wonderland is nonetheless a whimsical, often funny, romp through a story that traditionally renders its audience confused at best. Burton's take on the adventure is uncharacteristically linear, but where Alice is concerned, a story with purpose offers us something meaty to go with the frothy insensibilities of Wonderland.
Alice in Wonderland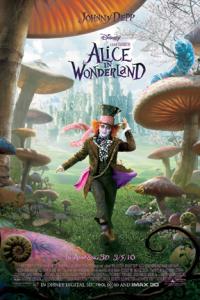 Info
Runtime :: 109 mins
Release Date :: Mar 05, 2010
Language :: English
Country :: United States

David Foucher is the CEO of the EDGE Media Network and Pride Labs LLC, is a member of the National Lesbian & Gay Journalist Association, and is accredited with the Online Society of Film Critics. David lives with his daughter in Dedham MA.
Comments on Facebook