Gay News: The Latest
Hospitals and nursing homes in New York are bracing for the possibility that a statewide COVID-19 vaccine mandate for health care workers could lead to staff shortages when it takes effect Monday.
The Centers for Disease Control and Prevention on Thursday endorsed booster shots for millions of older or otherwise vulnerable Americans, opening a major new phase in the U.S vaccination drive against COVID-19.
After receiving glowing reviews for her performance as Liza Minnelli in Netflix's "Halston," Krysta Rodriguez heads to Provincetown this weekend for a pair of concerts. She spoke to EDGE about Liza & returning to performing again.
Millions of people have found solace during the pandemic in cuddling a dog or cat. For a few, comfort comes in other forms — those of a horse or a pig, perhaps a possum-like sugar glider or even a tarantula.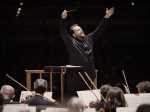 As the culmination of the Boston Symphony Orchestra's 2021-22 season-opening weekend, the orchestra presents a special BSO/Boston Pops community concert under the direction of Andris Nelsons, Thomas Wilkins, John Williams, and Keith Lockhart.
Sarah Jessica Parker explains why she's been quiet about reacting to the recent passing of fellow "Sex and the City" star Willie Garson.
Broadway is in need of a boost these days so it has smartly called on one of its most beloved, award-winning stage veterans for help — Audra McDonald.
Ben Platt is getting considerable grief for taking the lead in "Dear Evan Hansen" where he plays the high school student he played on stage while in his late 20s. But other actors went from stage to screen with success.
Out hip-hop artist Lil Nas X may have a new hit on his hands with a rendition of "Jolene," a 1973 single by Dolly Parton that is something of a signature song for the longtime LGBTQ+ ally.
See why British actor Ben Hardy is trending for his NSFW scenes in Amazon Prime's erotic thriller "The Voyeurs."
A married couple in Denver turned out to be matches for an organ transplant as well as soul mates: "It just feels like it was meant to be."
Gotham City has a new defender: An outsider that has inherited the mantle of one of the city's greatest heroes! Follow her journey in "Batwoman — The Complete Second Season," now on Blu-ray and Digital!
The Justice Department and officials in six states have filed a lawsuit to block a partnership formed by American Airlines and JetBlue, claiming that it will reduce competition and lead to higher fares.
An Australian entomologist has given the name Opaluma rupaul to a newly discovered species of soldier fly, a metallic-looking, rainbow insect he says earned the name for "serving fierce looks."
Here are some options to use your rewards from credit cards or hotels to help pay for your next vacation rental.

Which one of these hot hatches is the better buy? Edmunds' experts put the two speedy compacts head-to-head to determine a winner.
Milan is once again basking in the joy of snarled traffic for Milan Fashion Week, a sneak peek at what real normalcy might look like one day.
Montana is a national hot spot for covid infections, recording the highest percentage increase in new cases over the past seven days.
Marketed as "Virgin Voyages — No Kids, No Kidding," the adult-only (18+) ship, in many ways, departs from traditional ship design. EDGE sent our travel editor for a firsthand look.
Princesses, Queens, Princes and Kings of the rainbow community took over Disneyland Resort Anaheim for a special weekend full of friends, fun, and plenty of Disney rainbow merchandise.