The Last Black Man in San Francisco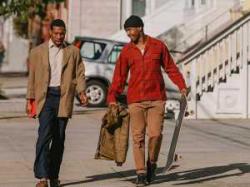 Singular is the first word that comes to mind when ruminating on Joe Talbot's directorial debut, "The Last Black Man in San Francisco." It wears its cinematic and cultural influences on its sleeve, yet it quickly and powerfully becomes an entity all its own. It tells the story of two black, American men, Jimmie Fails (portrayed by Fails himself) and Montgomery "Mont" Allen (Jonathan Majors), who are introduced to the viewer while waiting at a bus stop, watching the intense rantings of a street preacher whose words become an immediate chorus for the thematic melodies that 'Last Black Man' pursues throughout its entire duration.

"We're not going to make it," Jimmie tells Mont. "Let's skate."

What follows is a strikingly and surprisingly beautiful sequence in which Jimmie and Mont sail through the streets of San Francisco on the former's skateboard, taking in the visually rich sights that include people, landscapes and architecture alike. Talbot immediately paints a picture of a city he clearly loves, yet also judges.

You're immediately catapulted into a world, not only in scenery but in the characters' lives as well. Jimmie and Mont skate to a beautiful Victorian house near the Golden Gate Bridge, and they stare up at it and admire. Jimmie, particularly, gazes upon the house with something special inside of his eyes, which Fails captures effortlessly in a single shot. It's his childhood home. The home his grandfather built with his bare hands in 1946. It's the home he wants to once again call his own.

But it is not Jimmie's home anymore. And yet, he approaches the structure with a tender care, noticing every imperfection that could be perfected once more. When the owners of the home finally arrive home and catch him on their property, Jimmie's not even lurking anymore. He's painting the window frames a bright and vibrant red. As the wife throws fruit at him and tells him to leave, Jimmie keeps responding, "I'm almost done." He finally leaves, and the ache in his face while leaving the house behind is palpable.

The majority of the movie is Jimmie attempting to transform this ache into victory, reclaiming what was once his and achieving his own version of the American Dream. So much time is spent following Jimmie and Mont as they travel from one place to another - work, the house again and again, and the home the two share with Mont's blind grandpa Allen (Danny Glover).

But these sequences, while repetitive in content (which effectively communicates the quotidian journeys of our protagonists), are always aesthetically fascinating. Talbot's eye is never dull and rarely unsatisfying. The editing by David Marks is sublime, balancing whiplash cutting and mindful juxtaposition with a deftness that can't be denied. The cinematography by Adam Newport-Berra can only be described as magical, turning San Francisco into a land of both enchantment and destitute deterioration of a city that once was. The music by Emile Mosseri is haunting and playful and beautiful all at once.

All of these cogs combine into perfect clockwork when you factor in Fails' and Majors' superb performances, both of them soaked with such a unique profoundness that even the simplest, smallest moments occasionally brought a tear to my eye.

The entire film is a whirlwind of wonder, wisdom, wit and wandering curiosity. Talbot probes so much in these two hours that "The Last Black Man in San Francisco" is almost overwhelming upon a first viewing. Departing from the theater, the one clear aspect of the film's effect was that it demanded to be seen again. And I look forward to it.
The Last Black Man in San Francisco
Jimmie and his best friend Mont try to reclaim the house built by Jimmie's grandfather, launching them on a poignant odyssey that connects them to their past, even as it tests their friendship and sense of belonging in the place they call home.
Info
Runtime :: 121 mins
Release Date :: Oct 25, 2019
Language :: Silent
Country :: United States

Cast
Jimmie Fails :: Jimmie Fails
Montgomery Allen :: Jonathan Majors
James Sr. :: Rob Morgan
Wanda :: Tichina Arnold
Grandpa :: Danny Glover
Bobby :: Mike Epps
Clayton :: Finn Wittrock
Becca :: Thora Birch
Kofi :: Jamal Trulove
Uncle Ricky :: Daewon Song

Crew
Director :: Joe Talbot
Screenwriter :: Joe Talbot
Screenwriter :: Rob Richert
Producer :: Dede Gardner
Producer :: Jeremy Kleiner
Producer :: Christina Oh
Producer :: Joe Talbot
Executive Producer :: Brad Pitt
Executive Producer :: Sarah Esberg
Executive Producer :: Kimberly Parker
Cinematographer :: Adam Newport-Berra
Film Editor :: David Marks
Original Music :: Emile Mosseri

Comments on Facebook