Bathroom Stalls & Parking Lots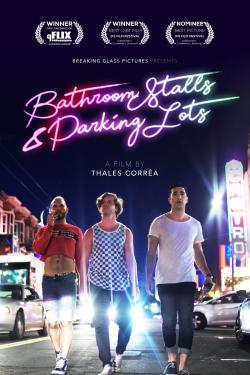 Two Brazilian best friends living in America wander the streets of San Francisco on a long night of missed hookups and romantic yearnings in co-writer/director Thales Corrêa's feature film debut "Bathroom Stalls & Parking Lots."

Though he lives in Los Angeles, Leo (Corrêa) has come to San Francisco to visit his best friend, and fellow Brazilian immigrant, Donnie (co-writer Izzy Palazzini). They encounter a lively array of local nightlife denizens, from the "straight" personal trainer Hunter (Oscar Mansky) to the effervescent Jeremy (Malakani Severson) to the angsty Ethan (Lucas Pagac). Along the way their misadventures do indeed take them to bathroom stalls and parking lots, as well as to dark alleyways, late-night streets, an underwear party at a hillside mansion, and an apartment where a couple of promising would-be lovers break out some dangerous drugs.

The action is far-flung, but the quest is fairly straightforward. The reason for Leo's visit is a Grindr pal who Leo has reason to think is in town. As Leo vacillates back and forth about how to handle his mad crush, relationship advice pours in from all sides (along with $30 cocktails and mounds of cocaine). Donnie has relationship issues of his own — with Ethan, to an extent, but — and this is far more troublesome — with Tina.

The performances have an earnest, amateurish, but charming quality that keeps the film afloat even though its messaging is as blunt as an After-School Special. There are some more finely-wrought nuances to the script, especially when co-writers Corrêa and Palazzini are alone on the screen in order for their characters to hash out their differences; though they are both bilingual, the film makes a subtle joke about how they are essentially (and literally) speaking different languages, as well as pursuing different goals for the night, and in life.

Even so, the film starts feeling much longer than its actual hour-and-a-quarter run time, and you can't help but flash back on an apt exchange from another San Francisco-set, GLBTQ comedy from this year, the 10-part Netflix "Tales of the City" miniseries — specifically, the scene, in Episode One, in which Michael "Mouse" Tolliver (Murray Bartlett) breaks the news, as gently as he can, to longtime friend Mary Ann Singleton (Laura Linney) that earnestness is not exactly in style. That's not to say it couldn't be, with enough snap and sparkle, but those qualities, while present here, aren't quite present enough.
Kilian Melloy serves as EDGE Media Network's Assistant Arts Editor. He also reviews theater for WBUR. His professional memberships include the National Lesbian & Gay Journalists Association, the Boston Online Film Critics Association, The Gay and Lesbian Entertainment Critics Association, and the Boston Theater Critics Association's Elliot Norton Awards Committee.
Comments on Facebook