Watch: At Alec Baldwin Roast, Caitlyn Jenner Jokes About Transition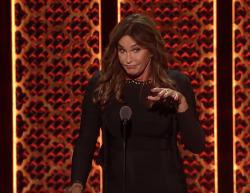 Alec Baldwin was roasted in a Comedy Central Special that will air on Sept. 15 but the network is releasing a clip featuring Caitlyn Jenner who took the time to poke fun of herself, specifically her transition.

"All of you are making these silly comments and jokes about how I kind of 'cut it off,'" Jenner said referring to her penis. "Let me remind you: It made Kylie Jenner, the youngest self-made billionaire in history.

"It made Kendall Jenner, the highest-paid model in the world," she continues. "I raised 10 children. I'm coming up on 20 grandchildren. I didn't cut it off. I just retired it. It was done!"

Comedy Central previously released a clip of NBA star Blake Griffin taking a jab at Jenner. Check that out by clicking here and watch Jenner's comments below.
Comments on Facebook