Watch: Brad Pitt and Ellen Say They Share the Same Ex-Partner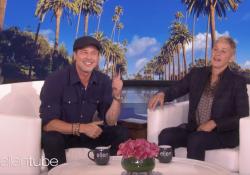 Brad Pitt stopped by "The Ellen DeGeneres Show" this week to promote his new film "Ad Astra" but the two revealed they have something in common: They share an ex!

Pitt and DeGeneres talked about the time they first met back at a party in the 90s that singer Melissa Etheridge threw. Pitt said he remembered when the Emmy-winning talk show host was flirting with his girlfriend at the time of the party.

"I remember a Melissa Etheridge pool party where I think you were hitting on my girlfriend," Pitt said.

"I actually sense that I dated another one of your girlfriends," DeGeneres told Pitt, sparking him to laugh.

The duo didn't reveal who the lucky lady is, however.

Watch the clip below.
Comments on Facebook