Escape to Margaritaville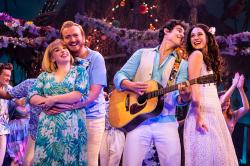 As it gets chilly here in Providence, a National tour kicks off at the Performing Arts Center that's a very, very sunny production. Boy meets girl, or two boys meet two girls, and they have all sorts of adventures in paradise. Based on a song, and the philosophy of Jimmy Buffet - the pretty successful singer/songwriter behind the show - "Escape to Margaritaville" fulfills its promise, at least in storyline.

Opening with a snowy stage and four meteorologists predicting the storms that we all know too well, "Escape" launches into a familiar storyline: working girl Rachel (Sarah Hinrichsen) and best friend Tammy (Shelly Lyn Walsh,) six days away from her wedding, are heading to an island vacation. Rachel is taking Tammy for one last hurrah as a single girl because frankly, she hates Chadd (Noah Bridgestock) her husband to be. Chadd isn't the nicest guy; we notice that he buys Tammy's wedding dress a size too small because she's not quite thin enough for him?!

Rachel is a working Environmental Scientist, coming to this particular island because there's a volcano, and, stay with me on this, she's looking for a way to make potatoes into a power source. They immediately meet two boys: bartender Brick (Peter Michael Jordan) and musical entertainer Tully (Chris Clark.) Tammy is infatuated with Brick's awkward ways, and Rachel is captivated by Tully's great looks, although not immediately. Along the way we're introduced to Marley (Rachel Lyn Fobbs) who runs a hotel on the island and J.D. (Patrick Cogan) an aging sailor who is perpetually looking for a shaker of salt.

The first act drags a bit in introducing our characters, and there are some strange touches here, like Brick's perpetual flashback of a group of insurance salespeople who purportedly died some years ago, buried under hot lava. But it seems the story isn't trying to be anything more than escapist entertainment, and there are some cute touches, like Tammy and Brick sharing a love for puns, and J.D. being a stand-in for Buffet himself, the man behind the musical.

Weaving songs made famous by Buffet is central, a jukebox musical formula we've seen often; at least on the surface nothing is terribly serious or dramatic; but it is predictable. There's Tammy's impending marriage to obviously the wrong guy, but we know how this will end; and Rachel citing her humanitarian efforts as the reason she's can't 'unplug' is a plot thread that seems all too familiar. But "Escape" is just that: a musical meant to entertain with little to bog down the upbeat mood.

The cast couldn't be more comfortable in their roles; Walsh is fun as the bubbly Tammy' Hinrichsen makes for a solid Rachel' Clark is pretty amazing looking (we do see him shirtless at some point) as Tully; and as Brick, Jordan steals the limelight in most of his scenes! Bridgestock is pretty spot-on as the creep Chadd and Fobbs' Marley provides some more of the abundance of comedic touches. The sets are what you'd expect, palm trees, coconuts and Hawaiian shirts aplenty. Plus there are some fun musical numbers featuring Jimmy's familiar songs. It's not going to win a Tony, but it's a great excuse to leave the house as it gets colder and dream of a tropical paradise, even for just a few hours.

"Escape to Margaritaville" is running through October 5th at the Providence Performing Arts Center (PPAC) 220 Weybosset Street, Providence, RI 02903. For information or tickets call 401-421-2787 or visit www.ppacri.org.
Comments on Facebook