Terminator: Dark Fate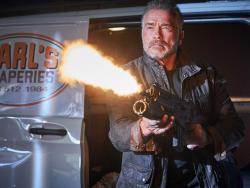 Available digitally today!

- - -

"I'll be back."

Those three words, uttered with unparalleled conviction by Arnold Schwarzenegger, caused a seismic shift that was felt across the very fabric of popular culture. They would have an unbridled affect on generations of film audiences. Director James Cameron's 1984 classic "The Terminator" introduced some very cutting-edge special effects for its time, and a time-traveling narrative that pushed the envelope of sci-fi filmmaking. Cameron endeavored to alter the way film fans experienced these stories, and his approach worked.

Eager fans would have to wait a long while for the followup, which re-teamed Schwarzenegger — by then a mega box-office blockbuster draw — and a physically redefined Linda Hamilton, more hard edged and warrior-like. The sequel, which shattered all possible expectations and raised the stakes, also solidified "The Terminator" as a viable film franchise. The latest installment, "Terminator: Dark Fate," poses an interesting question: What if John Conner, the one man at the front of the fight against man's annihilation, was terminated?

John Conner is the offspring of Hamilton's Sarah Conner, the heroine of the first two "Terminator" films. She's dedicated her life to keeping John (reprised by Edward Furlong) alive, because one day he will lead the human resistance against SkyNet, the evil AI determined to wipe out civilization. As "Terminator: Dark Fate" opens, Sarah and John continue their life on the run. John is still a teenager, it's only a few years after the events of "Judgement Day," and unfortunately for them, their luck has run out.

A Terminator — the same model Schwarzenegger has played throughout the series — comes upon them in their beach getaway and takes John out, leaving Sarah Conner alone and her mission failed. It's an interesting device that immediately pushes the "reset" on the films that followed the '90s sequel; a future without John leads to some seriously consequential alterations to the timeline. With John no longer alive, humanity's fate hangs in the balance — or does it? Enter Grace (Mackenzie Davis), an "augment" (which is to say, a human implanted with cybernetic parts).

Grace is on a mission of her own, and her prime target is Dani Ramos (Natalia Reyes), a hard-working Mexican factory worker and main provider for her family. Dani has just learned that her job is about to become fully automated when Gabriel Luna strikes! Luna plays the latest-model Terminator — a sleek and slick killing machine — that has set its sites on Dani and, in short order, does away with much of her family. Fortunately, Grace is on the job; her primary mission is to protect Dani, because Dani is destined to give birth to the future leader of the resistance!

Sound familiar? It should. What ensues is a rehash of the first "Terminator" film, this one with "Deadpool" helmer Tim Miller treading the famous steps of James Cameron almost beat for beat. There are car chases, explosions, gun fights, and Terminators getting crushed left and right; the nostalgic insertion of Schwarzenegger and Hamilton is a nice touch, but this literal reboot doesn't prove engaging enough, even though the main players have been brought on board. It's almost pandering to the audience, which is perhaps expecting one thing but will fall into a trap.

"Terminator: Dark Fate" may advertise that the originator of the saga, James Cameron, is on board, as a producer and contributed to the story, but the film lacks any imagination. It falls short on suspense as it becomes incredibly predictable, and ends up not as satisfying as, perhaps, Cameron's "Judgement Day," which is still the gold standard by which the franchise should be judged. Although the cast of "Dark Fate" are extremely likable, and you want to come along for their wild ride, it starts to feel like you've been on this rollercoaster before... and it's time to get off.
Terminator: Dark Fate -- The IMAX 2D Experience
In Mexico City, a newly modified liquid Terminator -- the Rev-9 model -- arrives from the future to kill a young factory worker named Dani Ramos. Also sent back in time is Grace, a hybrid cyborg human who must protect Ramos from the seemingly indestructible robotic assassin. But the two women soon find some much-needed help from a pair of unexpected allies -- seasoned warrior Sarah Connor and the T-800 Terminator.
Info
Runtime :: 128 mins
Release Date :: Nov 01, 2019
Language :: Silent
Country :: United States

Cast
Sarah Connor :: Linda Hamilton
T-800/Carl :: Arnold Schwarzenegger
Grace :: Mackenzie Davis
Dani Ramos :: Natalia Reyes
Gabriel/Rev-9 :: Gabriel Luna
John Connor :: Edward Furlong
Diego Ramos :: Diego Boneta
Hadrell :: Tom Hopper
T-800 :: Brett Azar
Julia :: Tábata Cerezo

Crew
Director :: Tim Miller
Screenwriter :: David Goyer
Screenwriter :: Justin Rhodes
Screenwriter :: Billy Ray
Producer :: James Cameron
Producer :: David Ellison
Executive Producer :: Dana Goldberg
Executive Producer :: Don Granger
Executive Producer :: Edward Cheng
Executive Producer :: John Kelly
Executive Producer :: Tim Miller
Executive Producer :: Bonnie Curtis
Executive Producer :: Julie Lynn
Cinematographer :: Ken Seng
Film Editor :: Julian Clarke
Original Music :: Tom Holkenborg
Production Designer :: Sonja Klaus
Supervising Art Direction :: Lucienne Suren
Art Director :: Claire Fleming
Art Director :: Florian Müller
Art Director :: Alejandro Fernández
Art Director :: Monica Alberte
Set Decoration :: Mike Britton
Set Decoration :: Nimrod Hajdu
Costume Designer :: Ngila Dickson
Casting :: Mindy Marin
Casting :: Lucinda Syson

Native New Yorker JC Alvarez is a pop-culture enthusiast and the nightlife chronicler of the club scene and its celebrity denizens from coast-to-coast. He is the on-air host of the nationally syndicated radio show "Out Loud & Live!" and is also on the panel of the local-access talk show "Talking About".
Comments on Facebook