Motherless Brooklyn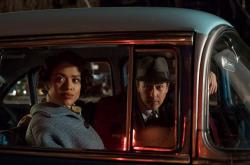 Available digitally today!
- -
Adapting "Motherless Brooklyn" for the screen, writer-director-actor Edward Norton takes Jonathan Lethem's popular 1999 novel and gives it a period re-adjustment (the late '50s, New York City) and a huge dash of Trump-era allusions, resulting in a pointed, moody, meandering work that is often entertaining and quite biting.
Norton plays Lionel Essrog (nicknamed "Motherless Brooklyn" by his boss), a private investigator with tics and twitches — basically, Tourette's — who is on the prowl to discover why his beloved boss, Frank Minna (Bruce Willis), was iced (in a nail-biting opening sequence). Lionel and his fellow detectives, including the rambunctious Tony (Bobby Cannavale, always pitch perfect) soon begin to realize that Frank may have been privy to a secret that had lethal career consequences for a high-ranking official. As Essrog further investigates, he realizes there is much more going on than just city hall corruption (although that is rampant), and racism plays a big factor.
All roads seem to lead to city bigwig, Moses Randolph (Alec Baldwin), a powerful politico who is being challenged by activist Gabby Horowitz (Cherry Jones, all fiery indignation) and her cohort Laura Rose (Gugu Mbatha-Raw), who appears to have some peripheral relationship to Randolph. Or does she?
Attempting to piece together the convoluted puzzle, Essrog finds himself at a Harlem jazz club, The King Rooster, where he befriends a trumpet player (a fab Michael Kenneth Williams) and finds Laura Rose, who he begins to crush on (and question).
Toss in an irascible mystery character played by a growly, scruffy Willem Dafoe and you have a lot of plot to chew on — maybe too much. These colorful characters are all fascinating, and there's tons of plot here. Also, exposition comes at us in quick-fire explanations that might leave some viewers scratching their heads and wishing they could rewind. Personally, I felt my mind wandering during the first 30 minutes because so much babble was being spewed, but once we meet Laura Rose and the "All The King's Men/Citizen Kane"-esque, Moses, the film builds momentum, and you can't help but grab on, sit back and immerse yourself in it.
The cast do stellar work with Mbatha-Raw, a particular standout. And, in a startling 11th hour speech about power, Baldwin excels, spouting lines like, "You can do whatever you want and no one can stop you." Yes, Baldwin is playing a Trump-like political figure, but this isn't his SNL caricature. This is a fully realized megalomaniac who is terrifyingly smart and ruthlessly ambitious, willing to do whatever it takes to get his way. Moses is a charismatic charmer that the citizens embrace — one who won't go away anytime soon.
I'm sure part of the draw for Norton was to investigate what is going on in Washington today by using Letham's sharp story and vivid characters. And, for the most part, it's damned effective.
The look of the film is dazzling, and some of the best scenes are in the jazz club where Lionel can't seem to control his Tourette's. The soundtrack (by Daniel Pemberton, with orchestration by Wynton Marsalis) is especially affecting.
This is Norton's second feature (the first was "Keeping the Faith," almost 20 years ago) and he borrows from the best Noir ("The Maltese Falcon," or pick your fave Bogart classic) and neo-Noir ("Sweet Smell of Success," "Chinatown") and even evokes his "Birdman" director, Innaritu, in certain scenes.
"Motherless Brooklyn"'s heart is Lionel, and Norton hits just the right notes to make him sympathetic but not too grating (which could have been easy). Lionel is trying to do the right thing, save the girl and stay alive. Are all three possible? Can the little man ever topple the villain?
Motherless Brooklyn
Lionel Essrog is a lonely private detective who doesn't let Tourette's syndrome stand in the way of his job. Gifted with a few clues and an obsessive mind, Lionel sets out to solve the murder of Frank Minna -- his mentor and only friend. Scouring the jazz clubs and slums of Brooklyn and Harlem, Essrog soon uncovers a web of secrets while contending with thugs, corruption and the most dangerous man in the city.
Info
Runtime :: 144 mins
Release Date :: Nov 01, 2019
Language :: Silent
Country :: United States

Cast
Lionel Essrog :: Edward Norton
Laura Rose :: Gugu Mbatha-Raw
Moses Randolph :: Alec Baldwin
Paul :: Willem Dafoe
Frank Minna :: Bruce Willis
Gilbert Coney :: Ethan Suplee
Gabby Horowitz :: Cherry Jones
Tony Vermonte :: Bobby Cannavale
Danny Fantl :: Dallas Roberts
William Lieberman :: Josh Pais
Giant Man :: Radu Spinghel
Lou :: Fisher Stevens
Mayor :: Peter Lewis
Billy Rose :: Robert Wisdom
Trumpet Man :: Michael Williams
Jacob Gleason :: Nelson Avidon
Union Boss Speaker :: Joseph Siravo
Betty :: DeShawn White
Julia Minna :: Leslie Mann
Formosa Bartender :: Migs Govea
Formosa Hostess :: Erica Sweany
Inwood Residential Secretary :: Katy Davis

Crew
Director :: Edward Norton
Screenwriter :: Edward Norton
Producer :: Bill Migliore
Producer :: Edward Norton
Producer :: Michael Bederman
Producer :: Gigi Pritzker
Producer :: Rachel Shane
Executive Producer :: Adrian Alperovich
Executive Producer :: Sue Kroll
Executive Producer :: Daniel Nadler
Executive Producer :: Robert Smith
Executive Producer :: Brian Sheth
Cinematographer :: Dick Pope
Film Editor :: Joe Klotz
Original Music :: Daniel Pemberton
Production Design :: Beth Mickle
Art Director :: Michael Ahern
Set Decoration :: Kara Zeigon
Costume Designer :: Amy Roth
Casting :: Avy Kaufman

Frank J. Avella is a film and theatre journalist and is thrilled to be writing for EDGE. He is also a proud Dramatists Guild member and a recipient of a 2018 Bogliasco Foundation Fellowship. He was awarded a 2015 Fellowship Award from the NJ State Council on the Arts, the 2016 Helene Wurlitzer Residency Grant and the Chesley/Bumbalo Foundation Playwright Award for his play Consent, which was also a 2012 semifinalist for the O'Neill. His play, Vatican Falls, took part in the 2017 Planet Connections Festivity and Frank was nominated for Outstanding Playwriting. Lured was a semifinalist for the 2018 O'Neill and received a 2018 Arch and Bruce Brown Foundation Grant. Lured will premiere in 2018 in NYC and 2019 in Rome, Italy. LuredThePlay.com
Comments on Facebook