Encore!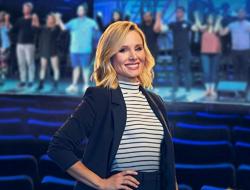 "Who says you can't go back home?" A magnificently unexpected and bold experiment in reality television, "Encore!" streaming on the newly launched Disney+ and executed produced by Kristen Bell the star of Disney's animated musical "Frozen" and "Veronica Mars" could well be characterized as the most strategically unique use of turning the camera an a group of seemingly ordinary individuals to capture life as it happens.

The premise is simple enough: reunite the casts of high school musical productions — some ten or more years later — and have them relive the experience by remounting the show! It's a combination entertainment talent show, "real world" class reunion and therapy session, as the one-time classmates relive a moment in their lives filled with overwhelming emotion and opportunity for self-discovery, coupled with the eventual awakening of adulthood and all the responsibilities of a life beyond high school.

In the premiere episode of the new series, "Encore!" reassembles the Class of 1996 from Santee, California and remounts their high school production of "Annie." Many of these individuals hadn't seen each other since leaving the insular grounds of their institution before entering upon the "real world" with their eyes wide and full of hopes. After the success of their 1996 performance of "Annie" some pursued their dreams of the stage, others found their calling else where, many started families, but when the opportunity came up to reunite on stage — they took it!

What brings these individuals together is undoubtedly the thrill of the spotlight, the attention everyone seeks during their formative years, whether they are included among the "cool kids" or travel on the fridges as an outsider — everyone wants to belong to something. The arts and especially through theater, that is something that can be achieved, even if it lasts for just that one moment of the school play. "Encore!" travels the length to prove to these individuals that no matter where life has taken them, the experience of the theater, has bound them together forever.

Dedicated to putting on the best show that they can (twenty-some years later) many friendships are rekindled, a deeper insight to each others lives is realized and a better understanding of who these people were and have become bubbles to the top! It's a deeply personal look and extremely revelatory as the act of creating theater enhances their sense of community and identity! It really is a starting experiment that is exciting to watch! You will be wanting to see this "Encore!" on Disney+.

"Encore!"
Original Series streaming on Disney+
produced by Kristen Bell

Native New Yorker JC Alvarez is a pop-culture enthusiast and the nightlife chronicler of the club scene and its celebrity denizens from coast-to-coast. He is the on-air host of the nationally syndicated radio show "Out Loud & Live!" and is also on the panel of the local-access talk show "Talking About".
Comments on Facebook