Disney's 'Aladdin' Dazzles at PPAC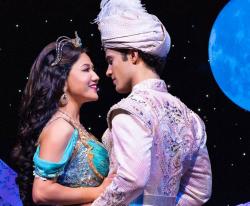 Disney has such a treasure trove of animated features in its vast film library. And while both "The Lion King" and "Beauty and the Beast" both made for vibrant and colorful stage productions, "Aladdin" which arrived in Providence this week may just be the most colorful of all. Packed with amazing costumes, glittering set pieces and a very attractive cast, this show is a feast for the senses. And those fans of the film won't be disappointed.

Aladdin (Jonah Ho'okano) is homeless, but a super cute street beggar, who, along with his three buddies, is just trying to make a living, stealing bread and entertaining the locals with humor and songs. Along the way, an unhappy princess Jasmine (Kaenaon Alani Kekoa) is brooding about her father the Sultan (Jerald Vincent) choosing her future husband. Running away, she meets, you guessed it, Aladdin, who realizes that she's not a beggar hides her in his rooftop room.

But they aren't just running from palace guards, there's the Sultan's right-hand man Jafar (Patrick R. Brown) who learns that an enchanted lamp, complete with Genie (Korie Lee Blossey), hidden in the Cave of Wonders. But the only person who can retrieve the lamp is Aladdin. Jafar convinces him to get the lamp but gets trapped inside the cave because it is enchanted, filled with treasures and he tries to grab some jade for Jasmine. Then the lamp reveals its inhabitant, and Aladdin is freed, plus gets the added dividend of the Genie granting him three wishes.

As previously mentioned, the sets and costumes are spectacular. But it's the cast that brings all of it together. We all remember Robin Williams' fantastic talents as the voice actor behind Genie; here Blossey is larger than life, with a booming voice and flamboyant portrayal, what's not to enjoy? Kekoa and Ho'okano are school chums from their native Hawaii, and they not only look fabulous but their chemistry is quite real. Both are gifted with vocal talents, as well, and Brown evilly fleshes out Jafar in a delightfully fun performance.

As for the films' iconic two animal characters, Iago and Abu, they are replaced with human counterparts. Iago (played by Reggie De Leon) is a good stand-in for the parrot with his snappy one-liners; while Abu is replaced by the three actors who portray Aladdin's BFFs. All are great and have a pretty amazing and elaborate sword fight as they rescue an imprisoned Aladdin. The choreography is eye-popping as well, there's so much to see it almost begs another viewing. East Providence native Albert Jennings lends his talents to the ensemble, and this is his first time performing at PPAC, a fabulous homecoming to be sure!

The kids will enjoy the colorful visuals, as well as the onstage magic; there is even a magic flying carpet and it is anyone's guess how that is done, it seems quite flawless. Adults will be entertained by the dancing, singing, and general spectacle, there's a lot to take in, but you'll have fun watching all of it.

"Aladdin" is running through November 10th at the Providence Performing Arts Center (PPAC) 220 Weybosset Street, Providence, RI 02903. For information or tickets call 401-421-2787 or visit www.ppacri.org.
Comments on Facebook