Dance Nation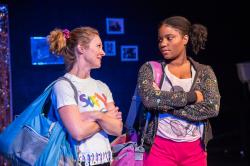 "Dance Nation," being presented by the Wilbury Theatre Group, is sort of "A Chorus Line" crossed with "Black Swan," the psychological thriller with Natalie Portman as a ballerina pushed to the edge.
A group of pre-teen girls, plus one boy, undergo physically demanding routines in preparation for a national dance competition.
In the process, they share their hopes, their dreams, and their fears with each other.
Playwright Clare Barron shows us how ruthless people can be when they are driven to win. The most surprising insight is that these girls aren't addicted to dancing, but to winning.
Alison Russo ("A Doll's House, Part 2") delivers a compelling performance as Zuzu, an emotionally fragile girl selected to play the lead role in a dance routine based on the life of Mahatma Ghandi.
Zuzu's ascension leads to a lot of backbiting from Zuzu's envious friends, who speculate whether she will crack under the pressure.
There are a number of shocking moments in "Dance Nation." Zuzu engages in an act of self-mutilation while sitting on a toilet. Another dancer smears her face with menstrual blood. The dancers engage in extended discussions about circumcisions and masturbation. There is lots of raunchy dialogue. This is not a show suitable for children.
Director Angela Brazil (a longtime Trinity Rep. performer) has assembled a talented cast to tell this downbeat story.
Joe Wilson Jr., a veteran of several Trinity Rep. productions, including "The Prince of Providence," is a standout as the demanding dance teacher. Wilson is a little frightening as he barks orders like a drill sergeant and pushes these girls to the limit. Their mental health seems to be of little to no concern. He views his dancers as puppets to be manipulated and controlled.
Catia ("The School For Lies") is a powerhouse as Amina, Zuzu's friend, who is fiercely ambitious and a highly skilled dancer. It's heartbreaking to see the lengths Amina will go to in order to succeed.
As Ashlee, Michelle Walker ("Our Town") has a virtuoso monologue which is brash and profane. It's a defiant message to anyone who would try to oppress women and deny them their dreams.
This is a good-looking show. Scenic designers Keri King and Monica Shinn created a flashy-looking dance studio, where the action takes place. Jackie Davis' choreography is imaginative, as are Erin Meg Donnelly's colorful costumes.
"Dance Nation" reminds us that the pressure we put on ourselves and others to make it to the top can exact a heavy cost. Winning can be wonderful, but sacrificing relationships and your soul seem a heavy price to pay for a few fleeting moments of glory.
As an entertainer, or an athlete, or a politician or CEO, you can be in the spotlight for a little while, but eventually you will have to exit the stage for someone else. It's just the way life is. What you're willing to do to get on that stage is up to you.
"Dance Nation" runs in rep. with "You Got Older" through December 22. Wilbury Theatre Group. 40 Sonoma Court, Providence, RI. For tickets, visit Wilbury Theatre Group website.
Joe Siegel has written for a number of other GLBT publications, including In newsweekly and Options.
Comments on Facebook