Watch: Shawn Mendes, Justin Bieber Top Gay Adult Studio's Most-Searched Names of 2019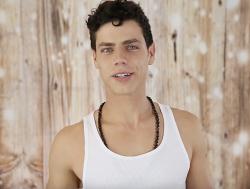 Canadian pop stars Shawn Mendes and Justin Bieber topped gay porn studio Men.com's most-searched names of 2019, taking the no. 1 and third spots respectively, according to the website Xbiz.

"Even though [Mendes] is obviously not featured in any Men videos, our members took it upon themselves to verify that fact by entering his name in the Men.com search bar," a company representative told the website.

The other folks who appeared in Men.com's top 10 most-searched names include performers like William Seed (second), Matthew Camp (fourth), and Joey Mills (fifth).

Kaleb Stryker, a Men.com exclusive performer who didn't appear in the company's results, recently asked Mendes's blessing to play him in an x-rated scene.

"I just found out my look-alike Shawn Mendes is the most popular search on Men.com in 2019, so that means I'm not the only one crushing on him," Stryker says in a YouTube video. "So, Shawn, what do you say? We give the people what they want? If you're cool with it, I can play you as a role on Men.com, and we can make everyone's fantasies come true...So what do you think?"





The Men.com rep also had something to say about Stryker's comments.

"Kaleb was intrigued by the idea of developing and starring in a Shawn Mendes porn parody, guitar and all, truly giving our members what they want! Hopefully, 'Camilizers' won't come for him," the rep told Xbiz, referencing the fan name for singer Camila Cabello, who is dating Mendes.

Back in 2015, Men.com parodied Bieber with performer Johnny Rapid, who landed in the sixth spot for the studio's recent poll. The company offered Bieber $2 million to star in the scene himself.

Watch Stryker's video below.
Comments on Facebook