The Times of Bill Cunningham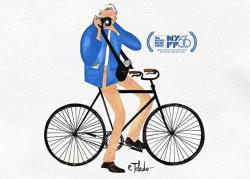 "The Times of Bill Cunningham" is a joyous account of a wonderfully fulfilled human being who simply radiates the sheer passion and excitement he has for his life. Filmed in 1994 by Mark Bozek (Cunningham died in 2016), the film had been shot as an interview; but, spliced together with some of Cunningham's iconic photographs, this 74-minute film is a perfect tribute to a talented and immensely likable man.

Cunningham was born into an Irish working-class conservative Catholic family, and he sent them into despair when he insisted on becoming a milliner who soon attracted a very fashionable clientele to his tiny atelier in Manhattan. As the one sop to his embarrassed relatives, the labels inside his hats simply read William J. 

It was while he was working for the designers who dressed Jackie Kennedy that someone somehow put a camera into his hands, and the rest is history. There's no doubt watching him at work in those early days that he would have made a great designer himself, but he possessed a unique talent of observation that set him apart from other would-be fashionistas.

The documentary is littered with his ground-breaking photographic street diaries in the NY Times that cemented his success, as well as previously unpublished work. The real joy of the film, however, is watching and listening to the man himself. He may be a grey haired fellow in his sixties, but what we see is a mischievous looking schoolboy who maintains a highly charged and totally natural enthusiasm for, seemingly, simply everything.

Immensely private, with no hint of any personal relationships outside the world of fashion and art, Cunningham suddenly is on the verge of tears when talking about how many people he knew that had died during the AIDS pandemic. There is mention of the fact that he paid a lot of money for some art from a dying Antonio Lopez, only to give it back for Lopez to sell again. You suspect that Cunningham is responsible for more of such acts of generosity that he kept completely to himself.

This is the second excellent documentary on Cunningham, but this one has the advantage of just seeing the man talking about himself in his naturally charming way. His photographic work has always been recognized for its sheer beauty and uniqueness, but the man himself was only really fully appreciated and loved by those he worked with. This film should deservedly change all that.

Bill Cunningham was one in a million, and it's such a joy to be able to appreciate that with the help of this film.
The Times of Bill Cunningham
A romance develops between two African-Americans from different class backgrounds.
Info
Runtime :: 74 mins
Release Date :: Feb 14, 2020
Language :: Silent
Country :: United States

Crew
Director :: Mark Bozek
Screenwriter :: Mark Bozek
Producer :: Mark Bozek
Producer :: Russell Nuce
Executive Producer :: Susan Rockefeller
Film Editor :: Amina Megalli

Roger Walker-Dack, a passionate cinephile, is a freelance writer, critic and broadcaster and the author/editor of three blogs. He divides his time between Miami Beach and Provincetown.
Comments on Facebook