Watch: Buttigieg Responds to Iowa Caucusgoer Who Wanted Vote Back After Learning He's Gay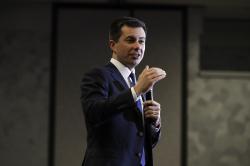 Democratic presidential candidate Pete Buttigieg is responding to a woman who went viral this week after voting for the South Bend, Ind. mayor at the Iowa caucus but asked for her vote back when she learned he is gay.

Buttigieg spoke with MSNBC's Stephanie Ruhle who asked him if the woman's reaction is "an issue" for him.

"It will happen," said Buttigieg, who is openly gay and married to his husband Chasten.

In the clip, the woman and Buttigieg's precinct captain Nikki van den Heever are seen going back-and-forth, calmly arguing about the politician's sexuality and the Bible.

"First of all, I felt proud of our organizer who on my behalf was speaking to [the voter], and speaking to her with respect, living out the values that this campaign has been asking our volunteers and organizers to live by the whole time, and trying to reach out in the name of compassion to that woman's heart," Buttigieg said. "I'm sad to see that it doesn't seem that she reached her, but I also think that is part of what change looks like, deep; real change, is looking people eye to eye and engaging them with compassion."

"If someone like me in Indiana, while Mike Pence was governor, could come out and get re-elected with 80 percent of the vote, then anywhere in America, I believe, can move past old prejudices, especially when the election at the end of the day is not about me or about this president, it's about the voters questions of how their lives will be shaped by the choice they're about to make," he said.

Buttigieg also reacted to the viral clip when he stopped by "The View" Thursday, saying that he wants to tell her that he is "running to be her president too."

"Of course, I wish she was able to see that my love is the same as her love for those she cares about, that my marriage means as much to me as hers if she's married, but if she can't see that, and even if because she can't see that, she won't vote for me, I am still, if I'm elected president, going to get up in the morning, and try to make the best decisions for her and the people she loves, as I will work to serve every American, whether they supported me or not," he said.

Click here to revisit the viral video of the woman asking for her vote back. Below watch Buttigieg on MSNBC and "The View."



Comments on Facebook