Review: This Film Hits 'The High Note'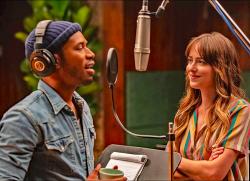 Another wide release moving straight to Virtual Home Cinemas, "The High Note" would have probably been a mild success at the theatre but should do pretty great business at home. This rather benign, but effortlessly engaging, film features charming performances, some great music, and a feel-good ending that people are undoubtedly craving right now.
While Emmy winner Tracee Ellis Ross (Diana's daughter) appears to be the lead and main focus of the film, the true star is "Fifty Shades of Grey"'s Dakota Johnson. Confident, but understated, Johnson plays Maggie, the new personal assistant to Ross's aging pop star Grace Davis. While Maggie is pretty much on everything she needs to do, she must deal with Davis' up and down mood swings and ego and the fact that her star isn't completely on the rise anymore. Meanwhile, she has dreams of becoming a record producer so she takes in everything she needs to while accompanying Davis to recording sessions, but also working late into the night on her own projects.
One of those projects is David Cliff, played by rising star Kelvin Harrison, Jr. He's a bagger at a Laurel Canyon grocery store who puts on shows in the parking lot for appreciative shoppers. He has dreams of being a singer. But how?
Eventually, Maggie offers to produce David's music, pretending she is an actual professional producer. The two work at all hours while Maggie continues to work for Davis, although the long days eventually take their toll.
Will she successfully prove she has the chops to produce record albums in a male-dominated industry? Will she prove herself to Davis, who sometimes can't see beyond her own nose? And will Maggie make David into the star she thinks he is?
There is nothing overly original about "The High Note," and there are some big reveals that are less than surprising, but it's still a completely enchanting movie because of the leads.
Ellis Ross proves she doesn't fall far from her family tree. She's a terrific actress who can play both the acerbic ego-driven singer and compassionate confidante effectively. She sings her own songs and while the producers seem to feel they need to auto-tune her a bit too much, it's fun to hear Ross's daughter belting out some ballads.
Harrison Jr. just keeps proving what a star he is becoming. Between his two award-winning performances in last year's "Luce" and "Waves," he shows here that not only can he sing, but he has the charisma and talent to do anything. He is going to be huge.
But what stood out for me here is Johnson. While she was arguably the best part of the "Grey" trilogy due to her ability to be a likable audience surrogate, she continues to show how relatable and gifted she is — not only as a dramatic actress, but by her ability to be consistently funny in a very downplayed, dry way. I found myself looking forward to her scenes just to see how she'd react to the events around her.
Some of the credit there goes to writer Flora Greeson, whose script is her debut. The dialogue is smart and snappy, and the plot entirely winning. There are conflicts in the film, but they are the sorts of problems you know will be worked out somehow by the end. And you know what? That's okay. This is the sort of enjoyable lark we need right now.
And while it's not going to change the world, it certainly leaves you on a high note when the credits roll.
Kevin Taft is a screenwriter/critic living in Los Angeles with an unnatural attachment to 'Star Wars' and the desire to be adopted by Steven Spielberg.
Comments on Facebook