Review: Biopic 'The Glorias' Undeserving of Its Subject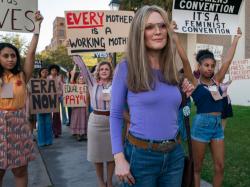 "The Glorias," Julie Taymor's well-intentioned biopic of feminist activist Gloria Steinem, starring Julianne Moore and Alicia Vikander, takes bold risks but ends up feeling gimmicky with unappealing visuals and an unsubtle, redundant metaphor. Unfortunately, in its broad scope, it sacrifices depth.
"The Glorias" covers Steinem's life from her childhood in the 1940s, journalism career, and activism in the '60s and '70s, to the 2017 Women's March. Steinem is portrayed by four different actresses: Ryan Kira Armstrong as a child, Lulu Wilson as a teen, a wooden Vikander from ages 20-40, and Moore (good here, providing subtle touches to her portrayal) from age 40 and up. It doesn't always work when more than one person plays the same character in a film, although brilliant exceptions exist, such as "Moonlight" and "Julieta." I like the concept of different actresses but, while working in a few scenes, it mostly feels gimmicky.
Rather than a traditional narrative structure, the four Glorias interact throughout, usually through the metaphor of traveling on a bus, filmed in black-and-white. They reflect her inner thoughts. Vikander's Gloria is frustrated she didn't respond to a sexist comment; Moore's Gloria reassuring her she will many times. Kid Gloria and teen Gloria discuss whether or not the ERA passed. Vikander's Gloria asks Moore's Gloria if she regrets not having children (she doesn't). We sometimes see them outside the bus. When anti-choice protesters bang on a car Moore's Gloria rides in, kid Gloria cries. Based on Steinem's book "My Life on the Road," it's easy to see why the filmmakers utilized a road trip metaphor. But it feels obvious and overused.
The film continually cuts back and forth in time. I want to like the temporal structure but its editing doesn't work. Neither do the cinematography, CGI, and coloring; it looks unappealing. It's surprising since cinematographer Rodrigo Prieto worked with Taymor previously on the visually stunning "Frida," as well as "The Irishman" and "Brokeback Mountain." An interviewer asks Vikander's Gloria why she isn't married and dresses provocatively. Becoming surreal, Moore's Gloria now sits in the chair, Vikander appears as a nun (then a Playboy "Bunny") and kid Gloria sits on his lap, as teen Gloria calls him an asshole. A tornado arrives, unsubtly mixing metaphors from both "The Wizard of Oz" and "Macbeth." Taymor has a theatre background, so I want her theatricality translated on-screen. Rather than dynamic or interesting, the visuals look contrived.
Feminist activist Gloria Steinem deserves a better biopic than "The Glorias."
As a child, Gloria is close to her eccentric, optimistic father; who continually uproots the family. Her mother, whom she lives with as a teen, suffers from anxiety, eventually committed to a hospital. Vikander's Gloria travels through India, inspired by Gandhi and his non-violent protests, listening to women's experiences.
Initially, in Gloria's journalism career, she's given assignments on fashion and dating. Going undercover as a Playboy waitress to write her famous exposé, she learns of horrible working conditions. Gloria herself endures sexism, sexual harassment, and threats as a journalist; this story catapults her career. She covers the Civil Rights March. Wanting to write more about the women's movement, she attends an abortion speak-out. A flashback shows Gloria getting an abortion after college in London — illegal at the time there, as well.
Gloria teams up with activist Dorothy Pitman Hughes (Janelle Monaáe) to speak about reproductive justice. They speak at a rally with Dolores Huerta (Monica Sanchez) for farmworkers' rights. Lorraine Toussaint, magnificent in every role, infuses vivacity as civil rights lawyer Flo Kennedy. She talks about abortion and how "racism and sexism are intertwined" and "cannot be uprooted separately." Founding the National Women's Political Caucus, Gloria works with Bella Abzug (Bette Midler). Wilma Mankiller (Kimberly Guerrero), at a Native women's caucus (and with whom Gloria becomes good friends), talks about Native women fighting for tribal sovereignty.
I appreciate that we see Gloria shying away from "the face of feminism" label, continuously acknowledging that a movement is more than one person and advocating for women of color. While this is Gloria's story, I wish its tour of feminist history gave women of color even more screen time. This isn't helped by an animated sequence of the Hindu goddess Kali dancing while juggling tasks, as housewives do. Based on artwork from "Ms. Magazine"'s first issue (the founding of which the film shows, as well as its impact), it feels appropriative nonetheless. I love that the film doesn't shy away from her abortion rights advocacy. I wish we'd seen more on LGBTQ rights.
Gloria Steinem is a feminist icon. Along with many other women, especially women of color, she helped catalyze the second-wave feminist movement. I only wish "The Glorias" was a biopic deserving of her life.
Comments on Facebook