Review: The Lessons Spun by Worthy Horror 'Spiral' are Hugely Important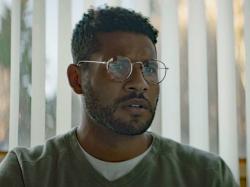 The unfortunately named "Spiral," a movie that is bound to get confused with the upcoming "Saw" spinoff due in 2021, is a horror film that goes far beyond this mishap, essentially eradicating it by becoming its own filmic entity. The story follows an interracial, same-sex couple — Malik (Jeffrey Bowyer-Chapman) and Aaron (Ari Cohen) — that moves to a small town in hopes of creating a better life for themselves and their teenage daughter, Kayla (Jennifer Laporte).

Almost immediately, Malik begins noticing cracks in the suburban surface of his new surroundings. An old man stares at him from across the street, saying nothing and turning away as Malik offers a friendly wave. A neighbor brings over a gift, only to display masked surprise when she learns her new neighbors are gay. "We don't get much of you around here," she says with a smile. In a way, it's reminiscent of Jordan Peele's "Get Out," where white people acted completely different around black people. Here, we're given the queer horror version, where side eyes and double-meaning conversation topics pave the way for suspected homophobia.

And it begins to drive Malik crazy as he becomes convinced that his neighbors are up to something nefarious. In a nod to Hitchcock's "Rear Window," Malik observes people performing some type of ritual next door, and coupled with the fact that somebody broke into their home and wrote the gay-bashing F-word on the wall, Malik begins to urge Aaron that they need to leave their new abode immediately.

Bowyer-Chapman, known for being a model as well as a judge on the recent premiere season of "Canada's Drag Race," enters new territory in this feature-length yarn, offering up a broody, obsessive and ultimately satisfying performance that carries the film from start to finish.

It's a passable paranoid thriller in the realm of Roman Polanski, with obvious nods to the aforementioned Peele and Hitchcock works. It's by no means perfect, but "Spiral" is still a worthy horror entry soaked in dread that builds and builds to both a grisly finale and a meaningful message. While the latter is a bit heavy-handed and hardly as clever as "Get Out" was, the lessons spun by "Spiral" are still hugely important. It examines prejudice and the victimization of the "other" in interesting ways, paving the way for thoughtful rumination after all the blood and gore subsides.
Comments on Facebook