Review: 'Scare Me' an Infectious, Amusing Romp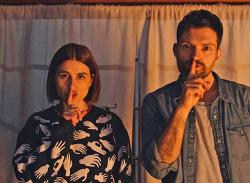 Promoted as a horror film, the new indie "Scare Me" is more of a two-person comedy than something to turn off the lights and hide under the blankets to. But that's not necessarily a bad thing. Josh Ruben wrote, directed, and stars in this little gem (which, incidentally, would make a great play); it's original, even if it doesn't totally land in the third act.

"Scare Me" is about Fred (Ruben), a down on his luck writer who decides to go away to an isolated cabin in order to write his first horror novel. Coincidentally, when he's out for a run he meets Fanny (Ava Cash) a successful horror writer who is in her own cabin, working on her next bestseller. When the power goes out that night, Fanny shows up at Fred's place and the two decide to tell each other scary stories to get their creative juices flowing.

What follows is the two quirky characters telling each other spooky stories while alternately criticizing each other's ideas and making suggestions as to how to make them better. It's a great exercise for writers who will appreciate the back and forth of the characters' process. For actors, it's a great example of storytelling and improv.

But where is it all going?

There is a bit of a shift toward the end, and while the actors pull it off it did feel like the film could have gone full-tilt but didn't. There are some heavy elements to the characters, and as the film progresses those demons start to surface. It just doesn't go far enough to make the ending stick.

That's not to say that the film isn't an infectious romp. It surprisingly is, and that's thanks in no small part to Ruben and Cash, who have great chemistry and clever banter.

Don't go into "Scare Me" expecting to be frightened, though. Change the title to "Amuse Me," and you'll get what you came for.
Kevin Taft is a screenwriter/critic living in Los Angeles with an unnatural attachment to 'Star Wars' and the desire to be adopted by Steven Spielberg.
Comments on Facebook