Review: 'Rialto' Explores the Pressures We Impose On Our Own Masculinity With Nuanced Performances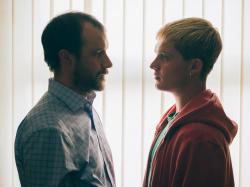 "Rialto," the sophomore feature film  from Scottish filmmaker Philip Mackie Brown, was written by queer Irish playwright Mark O'Halloran, who adapted the screenplay from his award-winning stage play "Trade." Incidentally, O'Halloran also wrote the script of the stunning film "Viva," which, in 2015, was Ireland's official submission for Best Foreign Film at the Academy Awards.

The title "Rialto" comes from an old working-class district of Dublin, which we don't see much of during the film, but it is there as a constant reminder of the humble beginnings of Colm (Tom Vaughan-Lawlor) and his family.

Now 46 years old, Colm is still working at Dublin Docks, as he has done since he left school. He's been promoted middle management, and now his "job for life" is suddenly at risk since the dock's new Dutch owners want to streamline the working practices.

The timing is not good for Colm, as his father has just died. The man was an abusive alcoholic so no love is lost there, but now he has to deal with the demands of his lonely widowed mother.

It's against this background that he seeks out a young hustler, Jay (Tom Glynn-Carney), for a hookup in a public bathroom. It's totally out of character for Colm, but he quickly becomes obsessed and is soon seeking Jay out for a session in a small guest house. Neither of the men considers himself to be gay; Jay loves his girlfriend and dotes on their newborn baby, but he's unable to get a job and this is an easy source of income.

Colm, on the other hand, shocks himself at how attached he's become to Jay. He drowns his thoughts and his depression when he's home with his own family, by drinking heavily. Now made redundant by the docks, and feeling even less wanted at home, his obsession and misery look like they will never end.

In recent decades Ireland has become a great source of excellent queer movies: Think "The Crying Game," "Handsome Devil," "The Conspiracy of Silence," "Viva," "The Queen of Ireland," etc. While "Rialto" may not qualify for this group, what it does give us is a remarkable perception of the pressures we impose on our own masculinity. This concept is what remains with you long after the final credits.

Kudos to the finely-tuned, nuanced performances of both Vaughan-Lawlor and Glynn-Carney; the film is worth a second view solely based on their portrayals of two afflicted men.
Roger Walker-Dack, a passionate cinephile, is a freelance writer, critic and broadcaster and the author/editor of three blogs. He divides his time between Miami Beach and Provincetown.
Comments on Facebook