Review: Ebullient and Elusive 'The Hit' Gains New Life with Criterion Blu-ray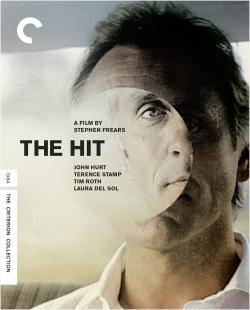 In the annals of the British crime genre, there are your hardboiled classics — "The Italian Job" and "Get Carter" — and more than a few oddities that elide the normal fare with more novelistic ideas, like the unceasing tide of mortality. Stephen Frears' "The Hit" belongs to the latter camp, with its compatriots "In Bruges" and "Sexy Beast," as it mashes together so many elements that shouldn't work so well together. But they do, as Frears' innate sense of internal turmoil is given the proper stage in studying a gang of thieves all at different emotional and physical points in the crime lifecycle.

The new Blu-ray of "The Hit" from the Criterion Collection is a decent upgrade over the 2009 DVD, although it uses the same digital restoration from the latter release that's starting to show its age. Aside from the generally softer appearance of the transfer, the new 1080p presentation offers a richer color depth and genuinely sturdy grain density. Save for some noisier scenes in terms of grain, the old master doesn't show a lot of traces of digital retooling, which is nice to see given its age.

Willie (Terence Stamp) is a "supergrass" that informed on his buddies and is living a tranquil life in southern Spain. Well, that's before gangland killer Braddock (John Hurt) and his rookie partner Myron (Tim Roth) abduct him. The trio is making their way to Paris so Willie can pay for his loose lips. Along the way, the trio picks up a young Spanish woman named Maggie (Laura del Sol) as they hurtle toward the unknown.

I mentioned earlier that one of the greatest strengths of "The Hit" is its studying of thieves caught at different points in the crime lifecycle. Willie still hasn't forgiven himself for his snitching, but he's a firm believer that he has wronged so many people in his life, including himself. Braddock is the kind of lone-wolf gunman that must kill, as that's all the control he has in this world. Myron, on the other hand, is a young and violent man quickly realizing that this life of crime will only bring more pain, so he lashes out physically and recedes mentally. This is a rich character study of men living and dying by the sword that never lionizes their wrongdoings. It's much too keen on watching these men crumble as the road grows longer.

The special features from the 2009 release have been carried over to this new Blu-ray, so don't expect anything new. If you're a fan of any of the movies I mentioned earlier, "The Hit" comes highly recommended. It's a strong earlier work from Stephen Frears that initially bombed and has aged incredibly well.

Special features include:

• Audio commentary from 2009 featuring director Stephen Frears, actors John Hurt and Tim Roth, screenwriter Peter Prince, and editor Mick Audsley
• Interview from 1988 with actor Terence Stamp from the television show "Parkinson One-to-One"
• Booklet essay by film critic Graham Fuller


"The Hit" is out on Blu-ray from the Criterion Collection on October 13.
Comments on Facebook