Review: 'The True Adventures Of Wolfboy' A Journey Toward Belonging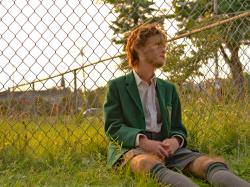 It's lovely to see original films popping up and getting the attention that they might not have otherwise have received in a crowded movie release schedule. Such is the case with grounded fantasy/drama "The True Adventures of Wolfboy." While not a perfect film, it offers a new take on the "outsider" genre, telling the tale of a boy born with a disease that causes hair to grow all over his body — including his face.

The boy Paul ("IT's" Jaeden Martell) and his single father, Denny (Chris Messina), live a quiet, simple life in a town that isn't all that kind to Paul. His furry visage makes people stare and brings about the expected bullying by young teens who find it hard to accept those that are different.

When Paul receives a map and a note from his estranged mother (Chloe Sevigny) on his birthday, he goes on a journey to find her so he can understand his family history and discover the secret as to why he looks the way he does.

Paul's first stop on his journey is to the local traveling carnival run by Mr. Silk (John Turturro), who offers Paul a job as "Wolfboy." While he needs the money to embark on his quest, having carnival attendees pay money for a closer look at him causes Paul to feel even worse about himself than he already does. As a result, he takes revenge and goes on the run.

Next, he meets Aristiana (trans actress Sophie Grace Gianni), who, at fifteen, spends her nights in a gay nightclub performing in drag and reveling in the other outcasts she's befriended. She takes Paul under her wing and the two slowly become friends as they head off to find Paul's mother.

Directed by first-time feature director Martin Krejci, the film looks handsome and colorful, and Krejci creates compelling characters from the winsome script by Olivia Dufault (FX's "Legion"). Separated into sections that appear like chapters in a children's storybook, the film is a bit darker than one might expect. Paul is a depressed (sometimes suicidal) kid who isn't sure how to deal with the world. His father, while loving, isn't always sure how to deal with his son. And his estranged mother isn't a bastion of joy, either. This makes the movie skew a bit older than families might expect, although the ultimate messages here are worth hearing at any age.

It is Paul's journey in finding his "tribe" that makes this a heartfelt and ultimately positive film. The LGBTQ bent, and how that community embraces many that are different, illustrates how finding your family doesn't need a person to assign themselves to any particular role. They just need to be themselves and find the place they feel at peace.
And that is the film's true adventure.


"The True Adventures of Wolfboy" will be On Demand and Digital on October 30th.
Kevin Taft is a screenwriter/critic living in Los Angeles with an unnatural attachment to 'Star Wars' and the desire to be adopted by Steven Spielberg.
Comments on Facebook