Review: Excellent 'His House' Offers Scares, Social Commentary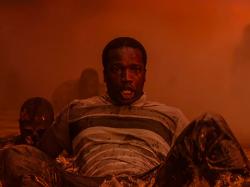 Part horror, part social and ethical commentary, Remi Weekes' dramatic horror film "His House" is a scary and impactful study of guilt and shame that works like gangbusters.

Bol (Sope Dirisu) and Rial (Wunmi Mosaku) are a young couple who escape a violent and war-torn South Sudan, lose their child on the boat over, and arrive in England as refugees. After an extended stay in a refugee facility, they are given a run-down apartment in the gloomy suburbs — one that they are genuinely thankful for.

Not being treated super nice by anyone, the couple is happy to have a roof over their heads even if the spacious layout is falling apart. But shortly after they move in, the couple realizes there is something else in the house; something is creeping through the walls and making life unbearable. When they try to get their living accommodations changed to another location, they are denied because their explanation is met with obvious skepticism.

But there's more at work here than a couple moving into a haunted house a la "The Conjuring." The ghosts and entities that assail them have a purpose, and it is explicitly linked to them in profound ways. This is a movie that makes the internal strife of its characters manifest into something tangible and terrifying.

Remi Weekes' debut feature is astonishingly good and brings a thoughtful and purposeful layer to the horror genre. He is always aware that his characters are front and center and that the scares and mysteries are the dressing.

With that, both Dirisu and Mosaku are fantastic. Mosaku carries much of the weight of the film, and this newcomer is incredibly impressive. Dirisu, so good in "Lovecraft Country," cements her acting chops and is set to be a star in the making. Both actors give award-worthy performances and the film itself — even though billed as a horror film — is so much more and deserves recognition.

This might not be the terror-fest audiences could be expecting from a film being released the day before Halloween, but they will find their skin crawling throughout. That said, it's the characters and the bigger themes that will keep them around. It's unlike any horror film you've seen and marks the beginning of what should be a very long career for Weekes and his exemplary cast.

"His House" debuts on Netflix October 30th.
Kevin Taft is a screenwriter/critic living in Los Angeles with an unnatural attachment to 'Star Wars' and the desire to be adopted by Steven Spielberg.
Comments on Facebook