Review: 'The Mystery Of D.B. Cooper' Grips the Imagination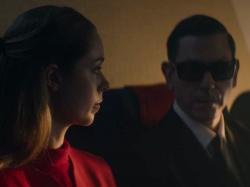 HBO delves into "The Mystery of D.B. Cooper" with a new documentary that examines four of the likeliest suspects in the still-unsolved 1971 hijacking of Flight 305 to Seattle, Washington, out of Portland, Oregon.

The facts of the case are in no dispute: On Nov. 24, 1971, a man who had bought a one-way ticket under the name Dan Cooper boarded Flight 305. Communicating with a stewardess, he revealed that he was hijacking the plane and opened his briefcase to show what seemed to be a bomb. His demand: $200,000 in cash, and four parachutes. In a daring mid-flight escape, he jumped out of the plane at 10,000 feet — and disappeared. The only clue that ever emerged was a cache of maybe $1,000 in ruined bills found on a riverbank years later.

The question has lingered ever since: Did D.B. Cooper — whatever his real name might have been — perish in the jump? Or did he survive, elude capture, and go on to live his life, $200,000 richer? To people who applaud his daring (and his ability to plan such a caper), Cooper has become something of a folk hero — the man who outwitted "the system," as people in this documentary like to think of him.

But who was D.B. Cooper? Are there any likely suspects and any chance the puzzle will be solved? Director John Dower interviews a number of people who were on the flight with Cooper, including the stewardess who sat next to him, a man who sat across the aisle from him with no idea what was happening, and the pilot. Dower also interviews writers who have researched the case, FBI agents, and people who claim to know the true identity.

Among them: Jo Weber, the widow of Duane Weber who — Jo tells us — made a deathbed confession identifying himself as Cooper. Jo and her "memory man," a friend and Cooper enthusiast named Tim Collins, build a convincing case.

Except so, in some ways, do the people arguing for three other suspects: A transgender woman named Barb Dayton, who had the expertise Cooper would have needed to pull off the heist; Richard Floyd McCoy, a Vietnam War hero and paratrooper who pulled off what was either a copycat hijacking five months after Cooper's bravura crime; and LD Cooper, the uncle of Marla Cooper, who recalls being eight years old and seeing her uncle show up badly injured, with her father and her other uncle talking about an airplane hijacking.

Various experts and students of the hijacking weigh in, with each of the suspects having their adherents. There's a fifth possibility also: That Cooper didn't survive the jump, and died after striking the ground or falling into a lake or other body of water.

Watching the documentary, which secures interviews with some hard-to-reach individuals and meticulously examines the theories and available evidence, you might not agree with that last explanation. But who, among the four suspects, would you say is most convincing? The film doesn't treat the question as a joke or a party game, but it takes on the giddy sense of a wealth of intriguing possibilities. One thing remains certain: Whoever else he is or was, D.B, Cooper has become a legend with a powerful grip on the imagination.


"The Mystery of D.B. Cooper premieres on HBO Nov. 25.
Kilian Melloy serves as EDGE Media Network's Assistant Arts Editor. He also reviews theater for WBUR. His professional memberships include the National Lesbian & Gay Journalists Association, the Boston Online Film Critics Association, The Gay and Lesbian Entertainment Critics Association, and the Boston Theater Critics Association's Elliot Norton Awards Committee.
Comments on Facebook