Sweeney Todd
Fans of Stephen Sondheim's 1979 Broadway musical Sweeney Todd: The Demon Barber of Fleet Street have no doubt been chewing their nails the last few weeks. After all, not a single Sondheim show has been sent to the big screen to critical acclaim, so heady are his music and lyrics, so theatrical his ambitions. But Sweeney has found a dark, compelling home at the cineplexes this Christmas thanks to Tim Burton's cinematic modus operandi and tour-de-force performances by Johnny Depp and Helena Bonham Carter. This Sweeney is gory, dank, romantic and hopeless - a far cry from the moral certainties of Sondheim's operatic, and comically grandiose, stage play. This is Burton's translation entirely - and it's bloody great.

Old meets young as Sweeney Todd (Depp) and erstwhile sailor Anthony (the beautiful Jamie Campbell Bower) sail into harbor - the former having escaped from a prison in Australia, the latter a young man seeking his fortunes in the dark visage of years-ago London. Todd, we learn, was locked up by a grousing letch named Beadle Bamford (Timothy Spall) on the orders of Judge Turpin (Alan Rickman), who executed the deed in order to steal Todd's wife Lucy and his daughter Johanna (Jayne Wisener). In hopes of revenge, he takes up his old room above the dilapidated meat pie shop of Mrs. Lovett (Bonham Carter), and rediscovers his talent for the ultimate close shave - in this story, a little too close. Todd begins a murderous rampage with the doting Lovett in tow, to darkly entertaining and morally decrepit ends.

Depp, Bonham Carter and Burton seem to have been born to explore the dark undercurrents of Todd's tale - we've not seen them this bloody before, but there's something gleeful in their sinister machinations. In fact, there's quite a bit of gore; suggestive bloodletting on stage has been realized on screen as spraying, pooling, voluminous buckets of the stuff. Strangely, not a drop feels gratuitous - perhaps because in this non-picturesque view of the world, the corpulent weaknesses of the human condition played out in the plot seem so much worse than the merciless killings at the barber's hands.

Depp offers up a brooding, ferocious Todd in look and voice, his surprisingly effective baritone largely carrying the film. The performances of the other actors-turned-singers, including Rickman, Spall and a somewhat subdued but still refreshingly comic Sacha Boren Cohen, are equal to the material. Strangely, it's Bonham Carter who departs from the traditional personification of Mrs. Lovett; on stage, this is a comic, manic character, yet Bonham Carter notches her overwrought mannerisms down to a quirky murmur, then tunes up the pathos, both in Lovett's affections for Todd and for her tag-a-long shop-keep Toby, played earnestly by the young Edward Sanders.

Ultimately, Sweeney is a morality tale that speaks to the toll taken by the less admirable human catalysts such as lust and revenge; but in Burton's hands, the focus shifts to Todd's obsessive descent into madness. To his credit, Burton determinedly does not deviate from that interest, which forces an alteration to the conclusion of the story that might distress some Sweeney aficionados but makes the story less affected and more accessible. Moreover, there's something simultaneously safe and delicious in watching Todd's world slowly ignite, and then consume itself in a literal bloodbath. Sweeney Todd might not be traditional holiday fare - but it's a must-see holiday film nonetheless.
Sweeney Todd: The Demon Barber of Fleet Street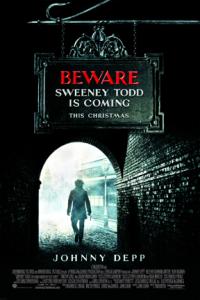 Info
Runtime :: 117 mins
Release Date :: Dec 21, 2007
Language :: English
Country :: United States

David Foucher is the CEO of the EDGE Media Network and Pride Labs LLC, is a member of the National Lesbian & Gay Journalist Association, and is accredited with the Online Society of Film Critics. David lives with his daughter in Dedham MA.
Comments on Facebook