10,000 BC
10,000 BC recalls the likes of Mad Max or Stargate - films that had comparatively little going for them in terms of star power or trailer accessibility, who performed reasonably well at the box office on the wings of word-of-mouth, but that found true audiences after their theatrical runs. The only known quantity here is Roland Emmerich, whose previous flicks Independence Day and The Day After Tomorrow betrayed his zeal for big-budget, CGI-laden blockbusters. Here we lack any known thespians whatsoever (although Steven Strait is a hottie), and the prehistoric setting offers little in the way of comfortable expectations for audiences. 10,000 BC is, therefore, a hard sell - but for those who gamble on it, it actually delivers an entertaining couple of hours.

The characters and plot of the picture borrow directly from the heyday of grand-scale motion pictures - replete with damsel in distress, buff hero, and a ferocious battle on the plains before giant pyramids. And the plot, to wit, remains surprisingly simple. In a remote mountain village in prehistoric times, a hunter named D'Leh (Strait) falls in love with Evolet (Camilla Belle), a blue-eyed beauty whose future is foretold by wise Old Mother (Mona Hammond) thusly: she will bring knowledge of four-legged demons (read: mounted slave traders) that end life as the tribe knows it (they attack and kidnap many of them), but her lover will save the world (guess who).

As the prophecy plays out, D'Leh embarks on a perilous journey across the lands in a desperate attempt to find and free his people. He encounters other tribes, natural obstacles, and a bevy of CGI creatures, including the beautifully-rendered saber-toothed tiger you've no doubt gaped at in the previews. D'Leh gathers the forces of other tribes who have also lost members to the rampaging slave traders, but still finds himself facing a daunting task when the truth about the foreigners is made clear...

For a bunch of ill-seasoned actors, the cast acquits itself shockingly well; Strait is both sturdy and charming, Belle is pluckish and demure, and the supporting cast manages to keep this far-fetched story from tipping into melodrama. Terrific technical work - from cinematography to CGI - and a well-crafted score by Harald Kloser and Thomas Wander keep the movie engaging. And it might have been an odd choice of subject, but Emmerich gamely delivers a gripping coming-of-age, incredible-journey film that barely lags in pace at all.

It's unfortunate that the filmmakers didn't truly create an innovative look into prehistoric life - in fact, it's pretty unimaginative. Slated into what is now being called the "300" slot after last year's CGI-based surprise moneymaker, 10,000 BC is clearly Warner Bros. hopeful shot at coaxing movie audiences out from winter's cabin fever. It's less likely to work this year, given the economy and the film's comparatively weak amount of hype. Nonetheless, it's a decent offering for late winter - and it's also a lot of fun to watch.
10,000 B.C.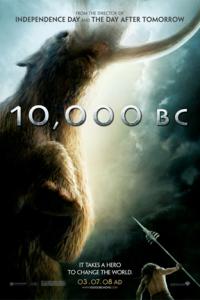 Info
Runtime :: 109 mins
Release Date :: Mar 07, 2008
Language :: English
Country :: United States

David Foucher is the CEO of the EDGE Media Network and Pride Labs LLC, is a member of the National Lesbian & Gay Journalist Association, and is accredited with the Online Society of Film Critics. David lives with his daughter in Dedham MA.
Comments on Facebook