Hancock
We're quite used to Will Smith on the 4th of July in this country; he's been in the pole position for July six times in a row, and frankly, the relative merits of his release on this holiday don't much matter. Fans will be lined up on the sidewalks regardless of what the critics think. And perhaps that's a good thing, because most critics will hate Hancock despite its creative counter-programming, making their reaction to this film a perfect analogy for a bulletproof man who -- regardless of the derision of the masses due to his laissez-faire attitude toward his superpowers and responsibility as a hero -- can't be chased out of town.

Hancock (Smith) drinks too much, destroys property indiscriminately, and has serious anger-management issues, but he has super-strength, can fly and is apparently immortal. As a result, the citizens of Los Angeles have a love/hate relationship with this reluctant crime-fighter, glossing over the millions of dollars in collateral damage he leaves in his wake. Enter Ray Embrey (Jason Bateman), who, after a close call with a train, gratefully volunteers to become Hancock's public relations representative. It's a difficult sell, particularly since his first recommendation is for Hancock to spend time in prison while the crime rate in L.A. skyrockets. But it works... at least until Ray's wife, Mary (Charlize Theron), enters the picture.

The picture delivers a significant twist shortly thereafter, and it rocks... and then fizzles. The movie is at its best when it's simply about Hancock and his broken public image; in fact, it's a brilliant concept, and a deft metaphor for Hollywood films. But the taut humor and self-deprecating charm of the film gets lost in the meandering plotline of the film's second half, culminating in a serious anti-climax. The problem here is the writing, which not only jumps genres but fails to coalesce into an emotional conclusion with which we can be even remotely satisfied. We can hail scribes Vy Vincent Ngo and Vince Gilligan for those shortcomings, though considering the film's troubled production history (and a dance with the MPAA's scarlet "R"), it is not unusual.

It's too bad, because Smith, Bateman and Theron deliver well-honed performances here. Bateman shows surprisingly good chops for character development; he proves he could carry a film on his own, albeit most likely a romantic comedy. Theron is a waste for much of the film, but once her character is permitted to evolve, she sizzles up the screen. And Smith is captivating as the bad good guy, his smoldering distaste for the world not only an effective tonic for the box office's superhero frenzy, but also a conscious critique of the transience of human attention. The Oscar-nominated Smith has the competence to be a winner someday, yet he knows his audience and has a nearly fail-proof record of racking up $100 million hits (we can forgive "The Legend of Bagger Vance"). Therefore, it is unlikely that he'll entirely jump ship from the action/adventure genre anytime soon.

Nevertheless, "Hancock" is solid summer entertainment, largely thanks to the smooth direction of Peter Berg ("The Kingdom") and a pile of special effects that are as ambitious as they are seamless. But then again, no critic needs to tell you to go, right? You've probably already bought your tickets.
Hancock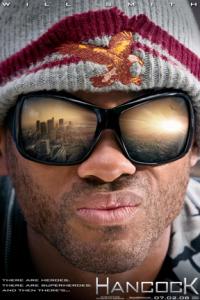 Info
Runtime :: 92 mins
Release Date :: Jul 02, 2008
Language :: English
Country :: United States

David Foucher is the CEO of the EDGE Media Network and Pride Labs LLC, is a member of the National Lesbian & Gay Journalist Association, and is accredited with the Online Society of Film Critics. David lives with his daughter in Dedham MA.
Comments on Facebook