The Dark Knight
Christopher Nolan's return to the "Batman" franchise is true to its title: it's incredibly dark in tone. It's certainly a revisualization both of the superhero microcosm that is Batman's mythology, but it's also a reinvention of the macrocosm of superhero pop culture. As the latter, it's brilliant; visionary to a fault, an oversized allegory for today's chaotic world stage. As the former, despite a powerhouse performance from Heath Ledger, it's a redaction of the comic books and Warner Brothers' original quartet of films which started with Tim Burton's "Batman" in 1989. Had Nolan managed to better balance the two, The Dark Knight might have been the best picture of the year -- nonetheless it's a brilliant ride, a must-see summer blockbuster, and a total bargain at twelve bucks.

The story begins not long after the conclusion of 2005's "Batman Begins," with billionaire Bruce Wayne (Christian Bale) holed up in a Gotham City penthouse, awaiting reconstruction of Wayne Manor -- and pretty much done with being Gotham's bitch. See, fighting crime is awfully hard, physical work that takes its toll on a person, and when the city's new District Attorney Harvey Dent (Aaron Eckhart) starts to adopt heroic proportions for his own fight against crime, Bruce is more than happy to turn in the batsuit so as to play house with Assistant D.A. Rachel Dawes (Maggie Gyllenhaal), who refuses to date him as long as he's dogging the bad guys on vigilante nighttime flights through Gotham City. However, this plan doesn't work for Gotham's newest baddie, The Joker (Heath Ledger), whose amoral penchant for chaos enamors Batman to him; he sees in Batman "a freak like me."

Once again, it's up to the strange team of Batman, police Lt. Jim Gordon (Gary Oldman), scientific genius Lucius (Morgan Freeman) and dedicated butler Alfred (Michael Caine) to put a stop to The Joker's murderous rampage -- but traditional weapons of fighting crime won't work for this new type of villain, who seeks not money or power but the willful exploitation of character flaws in a playful, but deadly, attempt to undermine the social order.

The complexity of this plot, while it drives the film to over 2 1/2 hours, marks an engaging follow-up to "Batman Begins" -- and the escalation of Nolan's determination to re-imagine the superhero genre on his own terms. It's also a potent parallel for our own chaotic times; we live in a world where the "superheros" are not bulletproof, there are no clear distinctions between right and wrong, and society is threatened by enemies seemingly devoid of morality and unencumbered by structure. It often takes someone who will break rules to fight someone who has none, and so the battle often leads to the vilification of both.

That theme plays out in the characters of The Joker, Batman and Harvey Dent. It's relatively easy to see how the role of The Joker may have had an influence on Ledger's untimely death; the material, and the character he played, are really that dark. And his death was a terrible thing -- his immersion into this role portended the brilliant work to come. He's impeccable in the part, his every utterance slowed to seem calculated, yet tinged with a slight psychopathic "rush" that causes some expressions and words to tumble forth unexpectedly, as if in response to a massive surge of deviant impulses.

The script offers fewer possibilities for Eckhart and Bale, although both nevertheless deliver strong performances. Bale spends an egregious amount of time behind the mask and raspy-voiced; the movie would have resonated more strongly were we able to track the slow degradation of Batman's semi-orderly life via ethical warring inside Bruce Wayne -- a character with a full range of expression available to him. And the transformation of Harvey Dent from upstanding District Attorney to ghastly, vengeance-bent lunatic progresses far too quickly for almost any actor to sell; Eckhart gamely tries, and nearly succeeds.

It's wonderful, however, to witness the small evolutions in the characters of Lucius and Alfred; Freeman and Caine are a delight, as expected. And Oldman manages to effectively maintain a fulcrum around which the plot circles; his is a powerhouse performance as well. If only the same could be said for Gyllenhaal, whose turn at Rachel Dawes attempts to reproduce the pouty/earnest performance of Katie Holmes, but comes up woefully short.

What's so terrific about this installment in the Batman franchise is its dedication to sheer adrenaline. The film hits the ground running, then accelerates to an often breakneck pace. It's a wild, stygian ride that rivals the visionary work of any director in Hollywood today. Batman's world has grown more technological both in effects and martial arts, and even features six major sequences shot in large-format IMAX for those who choose to experience the film on the really big screen (and these sequences are beyond incredible).

It all makes for a hell of a film that's remarkable for its visionary thematic sprawl, and unforgettable for the individual performance of a actor whose work here will invariably represent his legacy. Consider this your Bat-Signal and go out and see it.
The Dark Knight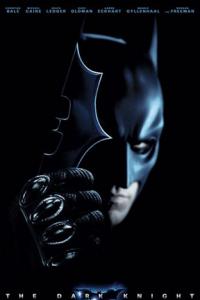 With the help of allies Lt. Jim Gordon (Gary Oldman) and DA Harvey Dent (Aaron Eckhart), Batman (Christian Bale) has been able to keep a tight lid on crime in Gotham City. But when a vile young criminal calling himself the Joker (Heath Ledger) suddenly throws the town into chaos, the caped Crusader begins to tread a fine line between heroism and vigilantism.
Info
Runtime :: 152 mins
Release Date :: Jul 18, 2008
Language :: Silent
Country :: United States

Cast
Bruce Wayne/Batman :: Christian Bale
The Joker :: Heath Ledger
Harvey Dent :: Aaron Eckhart
Alfred :: Michael Caine
Rachel Dawes :: Maggie Gyllenhaal
Gordon :: Gary Oldman
Lucius Fox :: Morgan Freeman
Ramirez :: Monique Curnen
Wuertz :: Ron Dean
Scarecrow :: Cillian Murphy
Lau :: Chin Han
Mayor :: Nestor Carbonell
Maroni :: Eric Roberts
Chechen :: Ritchie Coster
Engel :: Anthony Hall
Stephens :: Keith Szarabajka
Loeb :: Colin McFarlane
Reese :: Joshua Harto
Barbara Gordon :: Melinda McGraw
James Gordon :: Nathan Gamble

Crew
Director :: Christopher Nolan
Screenwriter :: Jonathan Nolan
Screenwriter :: Christopher Nolan
Producer :: Emma Thomas
Producer :: Charles Roven
Producer :: Christopher Nolan
Executive Producer :: Kevin De La Noy
Executive Producer :: Benjamin Melniker
Executive Producer :: Michael Uslan
Executive Producer :: Thomas Tull
Cinematographer :: Wally Pfister
Film Editor :: Lee Smith
Production Design :: Nathan Crowley
Original Music :: Hans Zimmer
Original Music :: James Howard
Costume Designer :: Lindy Hemming
Casting :: John Papsidera
Set Decoration :: Peter Lando
Supervising Art Direction :: Kevin Kavanaugh
Supervising Art Direction :: Simon Lamont

David Foucher is the CEO of the EDGE Media Network and Pride Labs LLC, is a member of the National Lesbian & Gay Journalist Association, and is accredited with the Online Society of Film Critics. David lives with his daughter in Dedham MA.
Comments on Facebook