High School Musical 3: Senior Year
I didn't fall for "High School Musical" until my theater-directing partner forced me at vodka-point to sit and watch the Disney Channel runaway sensation in 2006. Despite my craving for insulin following the ultra-saccharine experience, I found the songs infectious, the choreography delightfully unique, and even if the plot was stolen from "Romeo and Juliet," the lead actors were compelling enough to watch. Not so the following year's feckless "High School Musical 2," which might have played on economic class structures but left me unenchanted and prepared to completely swear off Zac Efron, Vanessa Hudgens and the gang.

It was not with a whole lot of joy, then, that I agreed to review the franchise's first big-screen outing, the cleverly titled High School Musical 3: Senior Year. In fact, I wanted to hate the film.

Shortly before the screening, I changed my Facebook status to a plea for "High School Musical" rescue - only to garner jealous responses from a number of friends, many of whom actually have no kids.

Initially, the film did not disappoint me. It's not easy to make basketball boring, but "HSM3" manages to do just that in its opening sequence, when Troy (Efron) and Chad (Corbin Bleu) lead the Wildcats to a predictable victory, replete with predictably peppy, basketball-bouncing pop tune. We then weave through an after-party, wherein (fully twenty minutes into the film) a plot weakly emerges: Troy is headed to the local college, while Gabriella (Hudgens) is Stanford-bound. Bummer. I guess we all better get together for one more musical before graduation. Otherwise there's no reason for Sharpay (Ashley Tisdale) and her twin brother Ryan (Lucas Grabeel) to be in the flick.

When drama teacher Ms. Darbus (Alyson Reed) announces that recruiters from Juilliard will be in attendance at the musical to choose potential scholarship recipients from amongst East High's singing and dancing talent pool, I felt the film was safely headed right to hell... and dug deeper into my popcorn tub, nursing the kind of glee that comes with watching an event movie like this one fall apart.

Alas, Disney and director Kenny Ortega outsmarted me. The last half of the film not only picks up the pace; it also delivers a wily combination of loss and nostalgia. The younger set, many of whom have grown up with Troy and friends the past three years, will be forced to watch as this group of friends - in a move reminiscent of "90210" - are forced to say goodbye as they prepare for their new lives independent of each other. The storytellers take no easy route here; the movie resolves into a realistic, if emotionally satisfying, denouement. The rest of us are liable to be dragged into a fit of High School memories, enjoying a touch of warmth as we recall the golden cusp of adulthood, when it seemed everything was possible, and nothing out of reach.

None of this would be effective were it not for the chemistry between Efron and Hudgens; although the supporting cast members are decent for the most part, they're relegated even more to the sidelines in this sequel. It was a smart move, and it's smartly handled. The songs here might not be as toe-tapping as those from the original (although "We're All In This Together" enjoys a reprise), but musically the film branches out into a credible number of genres; and the choreography remains as engaging as ever.

Perhaps a bit of ultra-bright optimism is just what moviegoers need in today's economic climate. Perhaps the two preceding HSM installments bred sufficient affection that the potential end of the cycle generates just the right mixture of joy and sadness. Perhaps I'm just a softie (who uses the word "perhaps" a bit too much). But this ready-made hit is sure to please fans - even those of us who don't fit the target demographic.
High School Musical 3: Senior Year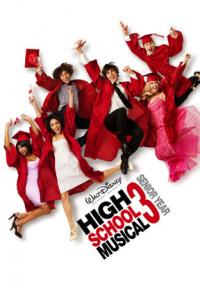 Info
Runtime :: 112 mins
Release Date :: Oct 24, 2008
Language :: English
Country :: United States

David Foucher is the CEO of the EDGE Media Network and Pride Labs LLC, is a member of the National Lesbian & Gay Journalist Association, and is accredited with the Online Society of Film Critics. David lives with his daughter in Dedham MA.
Comments on Facebook