Quantum Of Solace
There's a lot stacked against "Quantum of Solace." It's a sequel; they rarely live up to their predecessors. And in this case, it's doubly difficult: "Casino Royale" was a smashing good flick. It's a revenge story, which is a bad fit for the legendary superspy: we're used to a James Bond that sips martinis in one hand, shoots bad guys with precision marksmanship from a gun in the other, all the while macking it with a buxom but ultimately dispensable heroine named something like "Olivia Lips."

Daniel Craig and the writing team of "Royale" put us all on notice that a new Bond was in the making; and in "Solace" they deliver on that promise. In the end, they made a terrific film with the help of helmer Marc Forster... just not in any of the ways you'd expect.

This is the first-ever true Bond sequel; it picks up minutes after the end of "Royale," with Bond (Craig) driving the apprehended Mr. White (Jesper Christensen) through the Italian coast to be interrogated. As it turns out, the baddie is part of an international group of criminals whose nefarious desires (to the writers' credit) include leveraging natural resources for their own private gain - quite the contemporary arc. M (Judi Dench) is convinced that her superspy is not in it to protect Queen and country, but rather to revenge Vesper's death (yeah, the chick who drowned in the elevator in "Royale.") Along the way, Bond accidentally interrupts the unrelated quest for vengeance of Camille (Olga Kurylenko), who joins with him to hunt down the secret conglomerate - but to succeed they have to get past its charismatic leader Dominic Greene (Mathieu Amalric). And frankly, he's kind of a bitch.

The film has the same frenetic, twisting plotlines as "Royale" - no doubt because scribes Paul Haggis, Neal Purvis and Robert Wade returned to the franchise to pen the sequel. If you can keep up with the plot, it's quite a ride, despite the obvious comparative melancholy of Bond's character. But director Marc Forster make a number of missteps. Action sequences are so rapidly cross-cutted they seem inspired by Jason Bourne's world - and despite the weighty themes of the flick, he might have lightened it up on screen with a bit more levity.

Nevertheless, Craig still smolders his way through, amping up what's becoming his trademark style of rigorous action and recurrent sexuality; he's still the hottest Bond we've had in a generation. And what's really a joy in "Solace" is the developing relationship between Bond and M, who thanks to the superb work of Judi Dench inherits an undercurrent of exasperated distrust - in her abilities, in the solidarity of her organization, and especially in the hidden motives of James Bond. If the work of Kurylenko and Amalric provide little exceptional entertainment value, it's still a joy to watch Craig and Dench go at it. And in terms of recurring roles, Jeffrey Wright and Giancarlo Ciannini acquit nicely.

The problem isn't the casting or direction, tho; we're simply not used to a Bond who doesn't like his job. Craig's version gets shot at, roughed up and attacked under ethically and morally ambiguous circumstances, his reward the occasional fling with a pretty girl who either ends up dead or a traitor and the distrust of his own employers, all in the name of finding the people who murdered his only love. Who wouldn't be pissed? When viewed as a chapter in Bond's character development, "Solace" is faultlessly artful - and isn't that a little more appetizing than just another knockoff in the long line of feckless spy movies?
Quantum of Solace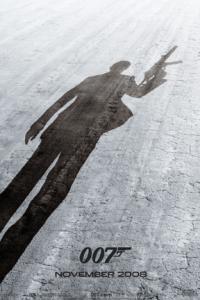 Info
Runtime :: 105 mins
Release Date :: Nov 14, 2008
Language :: English, Italian, Spanish
Country :: United Kingdom

David Foucher is the CEO of the EDGE Media Network and Pride Labs LLC, is a member of the National Lesbian & Gay Journalist Association, and is accredited with the Online Society of Film Critics. David lives with his daughter in Dedham MA.
Comments on Facebook