District 9
Peter Jackson knows a winner when he sees one; such is the case with "District 9," which has nothing but the man's name and an effective trailer by way of compelling marketing in a summer season full of science fiction blockbusters. It's a gutsy move to put the film out now; but then, it's a gutsy film. It reinvents and recharges the alien adventure genre, offering us a thoughtful, curious type of counterprogramming to the glitzy "Star Trek" and "Transformers" ilk. And, perhaps due to Jackson's skills, it blends special effects with live action in a seamless way that doesn't get in the way of character development or plot - both of which defy the theorem that they cannot effectively co-exist with high-concept fantasy (see "The Lord of the Rings"). For many, "District 9" might just be the most memorable film of the year.

The majority of the film takes place twenty years after an enormous alien spaceship basically stalls over the city of Johannesburg, South Africa. Government forces, finding the aliens aboard in a state of malnourishment, at first apply humanitarian efforts to rescue them, but ultimately agree with the human populace and segregate the crustacean-esque aliens into their own ghetto. Two decades of disrepair and crime, however, has forced the South African government to attempt to relocate the aliens (derogatorily called "prawns") outside Johannesburg to what looks a bit like a concentration camp. An uneasy alliance between the military and the corporation hired to serve legal eviction notices to the prawn citizenry invariably makes a mess of things - and escalating violence ensues.

Director/writer Neill Blomkamp is South African; and his choice of locale, apart from being familiar terrain, is genius; South Africa's history of racial oppression provides the ideal setting for this story. And in a bow to the gritty success of last year's "Cloverfield," a combination of styles - documentary, news gathering, and occasionally handheld guerilla shooting - imbue the film with narrative realism. And I've mentioned the alien effects from Weta Digital, but they deserve additional accolades: not only are they so realistic from a motion-capture point of view you'll swear (as my partner did) they're not digital, but they manage to deliver exquisitely complex characters that sneak up on you emotionally.

So too does the protagonist, superbly played by newcomer Sharlto Copley, who starts the movie as an unlikeable corporate nerd, but transforms - emotionally and physically - over the course of his adventure attempting to expel the aliens to their new home. Secondary characters (all played by actors you don't know) provide well-crafted and superbly-performed sources of tension, as does the ubiquitous, menacing-looking mothership blotting out the skies.

A superbly character-driven, hyper-tense, eloquently-conceived yet not preachy dissertation on race relations is not what you'd expect from a movie whose primary hype mechanism is the drawing of alien stick figures on billboards, benches and roads around the country (it was a little disconcerting to be walking home after the screening and see one on the cross-walk outside Boston Common). And here's a wakeup call for Hollywood: this blockbuster in the making was produced for a scant $30 million. All of which implies not only that the most innovative, thought-provoking work in cinema today is not only being devised outside the studio machines, but that the hippest stories of our time can often be found in the most modest of places.
District 9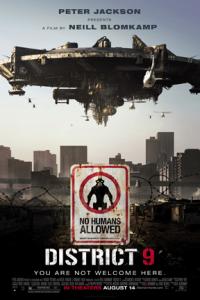 Info
Runtime :: 111 mins
Release Date :: Aug 14, 2009
Language :: English
Country :: New Zealand

David Foucher is the CEO of the EDGE Media Network and Pride Labs LLC, is a member of the National Lesbian & Gay Journalist Association, and is accredited with the Online Society of Film Critics. David lives with his daughter in Dedham MA.
Comments on Facebook