Gay News: The Latest
Former President Donald Trump staked his claim to the Republican Party in a closed-door speech to donors Saturday night, casting his populist policies and attack-dog politics as the key to future Republican success.
Ramsey Clark, the attorney general in the Johnson administration who became an outspoken activist for unpopular causes and a harsh critic of U.S. policy, has died. He was 93.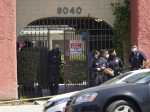 The mother of three children — all under the age of 5 — found slain inside a Los Angeles apartment Saturday morning has been arrested, police said.
Former President Donald Trump insists he's enjoying his life off Twitter. The press releases his aides fire off on an increasingly frequent basis are more "elegant," he says. Plus there's no risk of backlash for retweeting unsavory accounts.
Britain's Prince Charles offered a heartfelt tribute to his "dear Papa" on Saturday as Buckingham Palace offered the broad outlines of a royal funeral that will be attended by the family and broadcast to the world.
People who ignored an initial warning to evacuate the area closest to a volcano on the eastern Caribbean island of St. Vincent raced to get clear Saturday, a day after it erupted with an explosion that shook the ground.
Anne Beatts, a groundbreaking comedy writer with a taste for sweetness and the macabre who was on the original staff of "Saturday Night Live" and later created the cult sitcom "Square Pegs," has died. She was 74.
Former President Donald Trump plans to affirm his commitment to the Republican Party — and raise the possibility that someone else will be the GOP's next presidential nominee — in a closed-door speech to donors Saturday night.
Bad Bunny is showing off his muscles before he appears on "WrestelMania" Saturday night.
From a secure room in the Capitol on Jan. 6, as rioters pummeled police and vandalized the building, Vice President Mike Pence tried to assert control. In an urgent phone call to the acting defense secretary, he issued a startling demand.
Why would USMNT and LA Galaxy player soccer star Sebastian Lletget post a video of himself using a gay slur on teammate Julian Araujo to his 689,000 Instagram followers?
The summer looks good on Rockford, Illinois' finest as Cheap Trick kicks out yet another great rock album.
Despite the strongest public support and the most sympathetic president in years, the American labor movement just suffered a stinging defeat -- again.
Doctors in Japan announced Thursday they have successfully performed the world's first transplant of lung tissue from living donors to a patient with severe lung damage from COVID-19.
Unlike investment portfolios, annuities or pensions, Social Security is the only retirement income that is guaranteed for life and backed by the full faith and credit of the United States government.
Edmunds' experts have compiled a list of five SUVs that come in a variety of sizes and have unusually low starting prices for their competitive segments.
Beaten down by the pandemic, many laid-off or idle restaurant workers have pivoted to dishing out food with a taste of home. Some have found their entrepreneurial side, slinging culinary creations from their own kitchens.
people who didn't test positive for COVID face difficulty getting treatment and disability benefits. And, sometimes as aggravating, many find that family, friends or even doctors have doubts they contracted COVID at all.
LGBTQ YouTube series Tokyo BTM takes a tourist-friendly, cheeky, and honest approach to exploring all that Tokyo has to offer.
During Boston's annual Gay Pride Parade in June, these establishments are much busier than normal. Here are the top 5 LGBTQ bars in B-town.