Watch: On 'Ellen,' Zac Efron Compares his Abs, Discusses 'Unrealistic' Body Image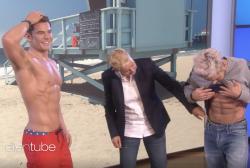 Zac Efron stopped by "The Ellen DeGeneres Show" this week to promote his upcoming movie "Extremely Wicked, Shockingly Evil and Vile," where he plays serial killer Ted Bundy. But the duo also discussed the actor's wildly ripped body while he filmed "Baywatch."

Ellen brought out a wax figure from a Madame Tussaud's exhibit that captures the 31-year-old star in his "Baywatch" look — shirtless and wearing red swim shorts.

"Wow, weird," Efron said about the figure, which comes with armpit hair. "Whoever did this I'm very impressed and scared."

Ellen pointed to the figure, adding, "Look at the vein right there, look at that."

"That's real," Efron responded, pulling up his shirt and delighting the talkshow's audience.

"They did a good job," he said.

Efron then opened up about body image and healthy body expectations, saying that his workout for "Baywatch" was extremely specialized and not something he wants to aspire to. He also said his body for the 2017 comedy was "unrealistic."

"It's a little bigger than me. That's too big," he said. "For guys, that's unrealistic, I'm telling you. I got very big and buff for that movie, but I don't want people to think that's the best way to be.

"Be your size. I don't want to glamorize this," Efron continued.

Ellen then pulled up his shirt and joked about his current abs.

"But this is so easy!" she said.

"Extremely Wicked, Shockingly Evil and Vile" hits Netflix on Friday.

Watch Efron on "Ellen" below.
Comments on Facebook