Review: 'No Escape' is 'Escape Room' via 'Saw'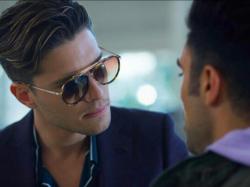 I was a fan of writer/director Will Wernick's "Escape Room," the surprise hit from a few years back that centered on a group of invited guests who get stuck in an elaborate and deadly escape room. It was a suspenseful, imaginative romp with decent characters and the potential for a string of sequels.

So it seems a bit strange that Wernick didn't just go the sequel route and instead sort of remakes the same movie but in a different location, only more dreary and grisly.

"No Escape" follows "Pretty Little Liars" star Keegan Allen who plays Cole, a social media personality who has gathered a small group of his friends to travel to Russia and partake in — what he later finds out — is private and secret escape room crafted just for them.

The plus here is that for once we have a group of friends who actually seem to get along and like each other, rather than a rag-tag group that would never be caught dead together in real life. Here we have Cole's nerdy best friend Thomas (Denzel Whitaker), his girlfriend Erin (Holland Roden of "Teen Wolf" fame), party-boy Dash (George Janko), and tatted-up gal pal Sam (Siya). They meet Dash's Russian connection, playboy Alexei (Ronen Rubinstein) a super-rich narcissist who has arranged the finest of everything for the group. This pleases Cole to no end as he is live-streaming it all for his fans and knows just how "awesome" it'll look.

The main event is that Cole is being allowed to stream the invite-only escape room for his 12 million-strong fan base. So while his burgeoning relationship has some strain because of his social media life, everyone knows the reason for their visit and goes along with it. Despite a few odd things that happen here and there signaling something isn't quite right with the trip.

When the five enter the grimy escape room in an old, abandoned prison, things start to get weird when it appears that some of the escapes are actually deadly traps. And as one could expect, it's only going to get worse from there.

To his credit, Wernick knows how to stage a harrowing situation and there are scenes so tense you will find yourself clutching your chair or yelling at the screen for the characters to "Hurry up!" But as this is "Escape Room" via "Saw," things are a bit more brutal and downbeat. Whether this is your thing or not might inform your enjoyment of the film, but to be fair it wasn't as gruesome as one might expect.

Still, there is a third act reveal that makes the plot a lot ickier than you might expect, and for reasons you might not predict. It left this reviewer unsure how he felt about the entire experience because of it.

That's not to say that the acting isn't on point (Allen's character is a bit annoying at first, but once he has to actually think about something other than himself, he gets more tolerable). Roden was gifted on "Teen Wolf" and she's good here, but it will be nice to see her stretch her wings in other roles. Directing and staging of the various action/escape sequences is great and tech credits are on point.

All in all, it's suspenseful 90 minutes that certainly will have you on the edge of your seat, but to be clear, there will be no escape from the gloominess you'll feel when it's all over.
Kevin Taft is a screenwriter/critic living in Los Angeles with an unnatural attachment to 'Star Wars' and the desire to be adopted by Steven Spielberg.
Comments on Facebook