Gay News: The Latest
Health officials are hoping that new, long-acting drugs to help prevent HIV infection will be a turning point for the fight against a global health threat that's been eclipsed by the coronavirus pandemic.
You have got to wonder if Sacha Baron Cohen is behind all this.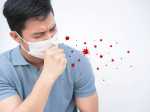 A pair of MIT professors have come up with a useful tool to evaluate indoor COVID-19 risks.
Elisa Crespo is running to become the first trans woman on the New York City Council.
Austin police officer Ryan Seweryn has been suspended for ten days for referring to a protester as "that gay dude."
Alan Ball admits it's difficult to watch "American Beauty" because of sexual assault and misconduct allegations against Kevin Spacey.
Out, Canadian director Xavier Dolan is set to make the move to series television.
Jonathan Bennett, perhaps best known for his role as the husky Aaron Samuels in the 2004 comedy "Mean Girls," announced his engagement to his boyfriend Jaymes Vaughan.
EDGE has curated the ultimate CBD holiday gift guide, including CBD gift boxes, CBD gift bundles, and the best CBD products of 2020. The only difficulty will be deciding whether to gift them or keep for yourself!
There is a real sea of change in the world of sports at the moment, with women breaking through on so many levels across many varied sports. Here's a look at some major LGBTQ sports stars.

New scholarship has raised an awkward question for Poland, which is one of the most homophobic nations in the European Union: Was that country's celebrated composer, Frédéric Chopin, gay?
A breakdown of five TV shows to check out in the new year.

Moderna board member Moncef Slaoui is playing a major role in Operation Warp Speed. But with options to buy more than 18,000 shares of the company, is it ethical?
Digital experiences are turning our computer screens into portals for all sorts of holiday reunions, group workshops, live entertainment and delightful tours. Here's a rundown of a few faves tilted toward LGBTQ interests.
Faulting inaction in Washington, governors and state lawmakers are racing to get pandemic relief to small business owners, the unemployed, renters and others whose livelihoods have been upended.
General Motors is switching sides in the legal fight against California's right to set its own clean-air standards, abandoning the Trump administration as the president's term nears its close.
Plenty of brands are relying on your support this holiday season to stay afloat. So check out the sales, gift a loved one or yourself, and let's all give the year a much-needed makeover.
The coronavirus vaccine inching toward approval in the U.S. is desperately anticipated by weary Americans longing for a path back to normal life. But criminals are waiting, too, ready to use that desperation to their advantage, federal investigators say.
Trawick International offers trip interruption and travel medical protection plans to travelers that may cover their expenses if they contract COVID-19 while visiting New York.

One former Black porn star says looking back after seven-plus years outside the industry, it's clear it was "a whole toxic environment of white supremacy and racism, completely all the time." Has anything changed?