How to Cope During the Pandemic? Goop Talks Vibrators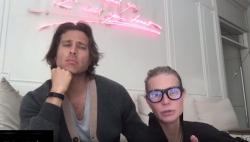 Yesterday Gwyneth Paltrow posted an article on her Goop website offering tips on the best sex toys for 'solo pleasure and partner play'."
The article, "The Best Vibrators for Solo Pleasure and Partner Play," came "shortly after the star and her husband Brad Falchuk, 49, hinted at sexual frustration in isolation during a chat with an intimacy coach," reports the Daily Mail.
The article offers the A-B-Cs of lists a number of vibrators that users can enjoy on their own or with a partner under two sections, "External Stimulation," "Internal Stimulation," and "Partner Play." Acknowledging that there is a "orgasm gap" between couples, Goop suggests communication between partners and "sometimes taking things into your own hands. On that last note, we've rounded up the best sex toys for internal and external stimulation, and everything in between."
She then divides the vibrators into different categories, which include "The Best Clitoral Vibrators," "The Best Vaginal And Dual Stimulation Vibrators," and "The Best Partner Vibrators." The prices of the vibrators range from $55 (for The Frenchman Vibrator and The Tennis Coach Vibrator) to $199 (for The Womanizer).
The posting "comes just days after she shared an advice session on YouTube with intimacy coach Michaela Boehm and husband Brad, where she hinted they were sexually frustrated amid isolation," writes the Daily Mail.
"The 56-minute video, titled 'How Do You Find Intimacy In Uncertain Times?', shows Gwyneth lounging on the floor in a black top and thick-rimmed glasses with her hair pulled back, alongside her cardigan-wearing husband." In the video she is interviewed by intimacy teacher Michaela Boehm. "They talk about why some people might find themselves wanting to have sex more during fraught times and why others might be struggling to feel sexual now," reads the YouTube description. "Boehm covers how to focus on a relationship's strengths when you need them most, how to have 'more constructive freakouts,' and how to build some fun into the day. The conversation wraps with a simple five-minute exercise for engaging with a loved one."
On it Paltrow discusses how Falchuk and her two children from her marriage with Chris Martin, Apple, 15, and Moses, 13, are struggling with social isolation.
"I think we all feel, especially my teenagers right now, are feeling really pent in," she said, adding that her eldest is a "really social creature."
"Gwyneth went on to lament her and Brad's lack of privacy in their mansion, pointing out: 'As a couple it's sort of like, where do you go as a couple when you're all in the house and you've got dogs, and work, and work from home?'
"So there's definitely tensions in the house, and we have the added dynamic of step-parent, and I think there is quite a lot of stress that comes from trying to recalibrate to this new normal and new level of proximity," she explained.
Comments on Facebook