A is for Audra: Broadway's Leading Ladies from A to Z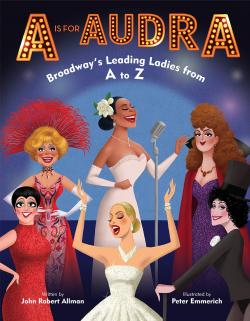 "A is for Audra" strikes at the heart of inspiration for young Broadway devotees. It is an homage to some of the loveliest leading ladies Broadway has known. Writer John Robert Allman and illustrator Peter Emmerich bring these ladies to life with this gorgeous, brightly colored hardcover children's book.
Each letter of the alphabet is paired with at least one of the Great White Way's heroines. Since there are so many great performers who have worked the boards, the book isn't limited to 26. Allman and Emmerich honor as many cis women as they can while acknowledging that there are others they couldn't include.
Allman's writing in "A is for Audra" manages a fine line between youthful innocence and poetic license. It teaches theatre history but doesn't overwhelm young readers with information. His poetry rhymes while offering helpful descriptions of the the ladies he writes about.
His entry for "C" is Christine Ebersole. He said, "C's for Christine's crystal-clear intonations, for which she won Tonys and standing ovations." The word intonation will be new vocabulary for some children but will start a discussion about musicianship.
This entry is paired with a drawing of Ebersole in the scarlet red, sleeveless dress and back-draping turban she wore as Little Edie Beale in "Grey Gardens" in 2006. She has an American flag in her left hand and heavy, smokey-eye makeup on her face. She's striking a pose as if to tell us that this is the costume of the day.
Each letter of the alphabet is paired with at least one of the Great White Way's heroines.
Emmerich's careful detail in this image is also in all of the other images. Turning the page to "D is for Dolly" shows us the distinct, bejewelled, and plumed costumes from the 1964, 1967, and 2017 productions of "Hello Dolly." It is clear that Emmerich took great pains to capture these women at their most fabulous.
Audra McDonald ("Lady Day at Emerson's Bar & Grill") is the first Black woman in the book but she is not the last. She is joined by other women of color, Chita Rivera ("Chicago"), Pearl Bailey ("Hello Dolly"), Heather Headley ("The Lion King"), Lillias White ("Fela!"), Lea Salonga ("Miss Saigon") and more. "A is for Audra" subverts intersectional feminism by embracing the contributions of these women. They aren't relegated to their own subcategory or treated like tokens as in books before this one.
The front and back covers drip with overwhelming praise from the living artists featured in this children's book. The quotes range from gratitude for inclusion in the book (Audra McDonald herself, Kelli O'Hara, Christine Ebersole, Laura Osnes, Heather Headley) to appreciation of the book itself (Jeanine Tesori, Chita Rivera). The quote from Steven Sater says that he wishes he had a book like this growing up because then he'd know "(A to Z) exactly who I was meant to fall in love with." It is an apt summation of why this book exists: a gateway for kids of all ages to discover the cis women of musical theatre.
A portion of the proceeds from the purchase of this book goes towards Broadway Cares/Equity Fights AIDS. It is a wonderful organization that calls upon the talents and resources of the theatre community to help men, women, and children living with AIDS receive the life saving care they need. More information can be found at www.broadwaycares.org.
Just in case, Allman and Emmerich included room after and before the front covers for autographs. It's a clever opportunity to use the book as a talking point at stage doors with the brilliant women featured between the covers.

"A is for Audra: Broadway's Leading Ladies from A to Z"
Written by John Robert Allman
Illustrated by Peter Emmerich
Hardcover
$18.99

Comments on Facebook