Watch: 'Lucifer' Star Tom Ellis Reads Your Thirsty Tweets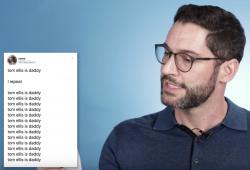 Tom Ellis, the star of "Lucifer," which is now on Netflix, has made headlines recently for opening up about doing his own nude scenes and his intense workouts. The actor is now joining BuzzFeed to give fans the ultimate gift — reading their thirsty tweets about him.

One tweet is simply "Tom Ellis is daddy" repeated over and over again.

"I didn't realize I have quite so many kids," he responds.

Another tweet says: "I'm only living to see Tom Ellis's butt."

"Listen, if you watch Season 4 [of 'Lucifer'], you won't have to wait long to see that. Freshly cleaned and shaved," he says.

Watch the naughty video below.
Comments on Facebook