Out Designer Michael Costello Making Masks to Combat COVID-19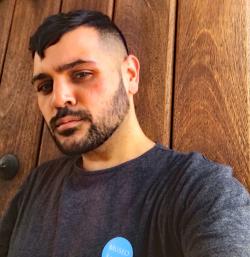 In New York City, Christian Siriano has re-tasked a sewing team to make badly-needed masks for health professionals struggling to care for those afflicted in the burgeoning COVID-19 pandemic.

But on the other coast, Los Angeles-based designer Michael Costello - like Siriano openly gay and, like Siriano, a "Project Runway" alum - has also turned his team toward the task of helping America's doctors, nurses, and first responders answer the challenge of the health crisis.

Costello opened up to celebrity news site TMZ about his team's efforts to help provide the desperately-needed masks.

Reported TMZ:

MC says his seamstress team is practicing social-distancing while at work ... spacing out their sewing stations. Their mission is to do as much as possible to answer L.A. Mayor Eric Garcetti's call for 5 million masks through the new L.A. Protects initiative.

Michael says he'll donate these masks to first-responders, hospitals and other medical facilities in desperate need for the equipment.

As reported at EDGE, Siriano volunteered to do his part with a tweet in which he extended an offer to Andrew Cuomo, the Governor of New York, to manufacture face masks as a response to fears that medical workers might not have enough.

The 34-year-old designer reportedly is providing the masks free of charge. Siriano told Harper's Bazaar he was helping out just because he can.

"I am just in a unique scenario where I manufacture everything in New York already, I have a working atelier and everyone's working from home, and my office is a townhouse," he told the magazine.

"We're just able to make them."
Kilian Melloy serves as EDGE Media Network's Assistant Arts Editor. He also reviews theater for WBUR. His professional memberships include the National Lesbian & Gay Journalists Association, the Boston Online Film Critics Association, The Gay and Lesbian Entertainment Critics Association, and the Boston Theater Critics Association's Elliot Norton Awards Committee.
Comments on Facebook