Incendies
"Incendies" is a perfect title for Canadian filmmaker Denis Villeneuve's harrowing new movie, which the director has adapted from the play "Scorched" by Lebanese author Wajdi Mouawad.
The film speaks not just to the traumas of war, but also to the incendiary nature of courage that stands up to culture, tradition, and politics--especially when it's displayed by a woman at the mercy of a patriarchal society.
"Incendies" opens in contemporary Canada, as a brother and sister, Simon (Maxim Gaudette) and Jeanne (Melissa Desormeaux-Poulin) hear a notary named Lebel (Remy Girard) read the terms of their late mother's will.
Their mother, Nawal Marwan (Lubna Azabal), has a past scarred by terror and culturally-imposed shame. She had tried, as a young Christian woman living in a village in Lebanon, to elope with a Muslim lover, a member of a hated caste of refugees whose presence had infuriated extreme nationalist Christians while evoking the sympathies of a downtrodden Muslim majority.
Nawal's lover was murdered by her brothers, who were about to do the same to her--an "honor killing" meant to cleanse the "stain" from the family name--when the grandmother intervened.
Decades later, Nawal, with the help of the notary (who is also her employer) sets out the terms of her will: Her children must deliver two letters before they can honor her grave with a proper headstone. Only then will the family's tragic secrets be revealed in a third letter that the notary will hold back until the other two missives have been delivered. One is addressed to the twins' father; the other to their elder brother.
All this is something of a shock to the siblings, who had believed their father long dead--and who had no inkling of an older brother. Simon wants to put the whole thing out of his mind and simply go on with his life; his recalcitrance is a recurring theme of the film, in which men, portrayed as little more than boots and guns (their faces often obscured, assuming they come into the frame at all), are pretty much useless at anything other than spreading violence, death, and fear.
It's up to Jeanne to return to the Middle East and retrace their mother's footsteps from long ago. As Jeanne progresses, piecing together the puzzle of her mother's past, the film flashes back to show us Nawal's quest to be reunited with her stolen baby, relegated to an orphanage as soon as he was born. Nawal's path cuts across desolate desert landscapes littered with the burnt remains of buildings, vehicles, and people.
The political landscape is just as barren, and just as inimical to humanity: Before her eventual escape to Canada, Nawal will seek revenge and struggle to cling to her dignity, and her sanity.
There's a double meaning suggested by the title, insofar as the film itself is liable to provoke firestorms of rebuke and criticism. This is not a happy film. Villeneuve spares us prolonged episodes of violence, skipping over rapes and even childbirth, and showing us instead the immediate aftermaths: A sobbing woman whose children are taken, bloody sheets, a prison torturer whose parting words are a malicious jab flung over a shoulder. But he does show us episodes of horrifying violence,and when they unfold it's with a shocking abruptness. More than once, in split-second carnage, people are shot down. Some of them are children.
The overall effect of the film is one of terrible brutality--political, sexual, and psychological. Nawal explains in one of her letters that she wants to break a cycle of rage and violence--but it's possible to feel, as the lights come up, that one has just been violated by proxy.
There's an absolutely Greek strain of tragedy running through the movie, and that lends the story power and impact. The question of redemption, however, is a Christian notion, and this film hearkens back to Greek classical theater. Its spiritual tone is less New Testament than angry, old-school Zeus, or Deus--a god of the desert, parched and thirsting for bloody sacrifice.
Incendies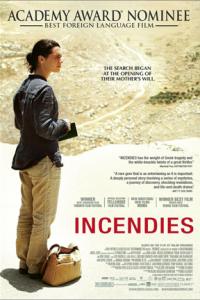 Info
Runtime :: 130 mins
Release Date :: Sep 17, 2010
Language :: French, Arabic
Country :: Canada

Kilian Melloy serves as EDGE Media Network's Assistant Arts Editor. He also reviews theater for WBUR. His professional memberships include the National Lesbian & Gay Journalists Association, the Boston Online Film Critics Association, The Gay and Lesbian Entertainment Critics Association, and the Boston Theater Critics Association's Elliot Norton Awards Committee.
Comments on Facebook