The Bourne Legacy
Let me get this out of the way first: I am not a fan of the "Bourne" franchise. While everyone and his mother thought they were kinetic, fascinating, and smart, I found them to be boring, mind-numbing, and loud. Not to mention there are so many code words, names, and "operations" being thrown around in one conversation, that not only couldn't I follow it, I would also start to chuckle at how seriously everyone was taking this "Blackbriar" and "Treadstone." I also don't find Matt Damon to be a particularly engaging action star. Suffice to say I didn't even see the last film.

So here we are with the inevitable sequel/off-shoot of the series called "The Bourne Legacy" that goes in a decidedly sci-fi-ish direction that tells the tale of a new operation being bungled by the shadowy CIA. Called "Operation Outcome," the participants are given green and blue pills to enhance their chemical and physical makeup. When one of the guinea pigs named Aaron Cross (Jeremy Renner) is on an survival exercise in the Alaskan wilderness and a pack of wolves (one of which he tackles and fights - tee hee), he soon realizes that Operation Outcome thinks he is more than expendable. Pissed off, Cross goes rogue. He heads back to the mainland to score the pills he has run out of, and take his handlers down.
Or something like that.

Motivation in "Legacy" is a bit sketchy and Cross' character isn't super complex or provided with much of a backstory - even though we get endless flashbacks that suggest more. One of those flashbacks involves the doctor that is studying the Operation Outcome participants. She is Dr. Marta Shearing (Rachel Weisz) and before you know it, she's involved in a little bit of work drama as well when a co-researcher (Zelijko Ivanek) decides to shoot the entire staff. (Oddly, this scene was so extended and upsetting, I'm surprised the movie's release wasn't delayed because of the Aurora tragedy.) Regardless, Dr. Shearing realizes something is amiss and has a mini-breakdown when confronted by two CIA operatives who aren't on the up and up. Enter Aaron Cross who rescues the good doctor and then drags her with him all over the globe on his pill run.

Directed by Tony Gilroy ("Michael Clayton") who wrote the first three films, and co-written by his brother Dan Gilroy ("The Fall"), "Legacy" is a fairly engaging ride that has its share of problems, but manages to be visually interesting and involving despite them. The main problem is that Aaron Cross isn't much of a character. Jeremy Renner plays him as a sort of poor man's Daniel Craig. While he's a terrific actor and has screen presence, he has to work hard to make the character pop at all. Weisz' Dr. Shearing fares a bit better as she gets the chance to be both vulnerable and resilient in equal measure. Edward Norton as Col. Eric Byer - the villain of the piece - is appropriately icky as the dude that just does what has to be done. But like the "Bourne" movies before them, the villains don't do much but sit in a control room and shout more code words and last names around, bash their fists on tables, and look terribly frustrated.

The film makes frequent reference to Jason Bourne who apparently has just escaped and is at large somewhere and they also give a bit of resolve to the character played by Joan Allen in the other films. So there's a tenuous connection between the films, but with the added "super soldier" angle, this feels like a new direction and a new franchise.

While some audiences and critics hailed Paul Greengrass' direction and action-sequences from the first three films, for me there was so much camera movement that I couldn't follow the action. And its color tone was so muted that nothing stuck for me. Here the same neutral tones are used, but the change of locations (Alaska and Manila, for example) give this film more of a distinctive look. The action scenes are still filmed close-up and frenetically edited, but somehow were easier to follow. And the finale motorcycle chase - while rehashing a hundred other car chase scenes - still felt fresh and exciting. And in fact, it's a really long sequence that when it ended, I just wanted to applaud the tenacity of the filmmakers for stretching it out as long as they did.

For some, "Legacy" will be too light and airy a Bourne film. For me, I found it to be a bit more interesting and involving. I can understand if some Bourne fans are disappointed, but for me it was an entertaining two hours that was a nice summer distraction.
The Bourne Legacy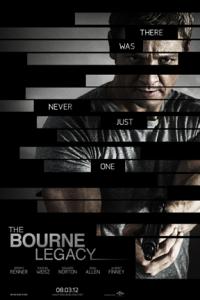 Info
Runtime :: 135 mins
Release Date :: Aug 10, 2012
Language :: English
Country :: United States

Kevin Taft is a screenwriter/critic living in Los Angeles with an unnatural attachment to 'Star Wars' and the desire to be adopted by Steven Spielberg.
Comments on Facebook