Yesterday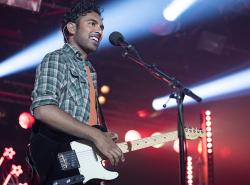 Available digitally today!

- - - - -

It's really hard not to like Jack Malik (newcomer Himesh Patel), the woeful singer/songwriter attempting to get his music career going in "Yesterday." He's been at it for 10 years to little result and wants to quit to go back to teaching, but Ellie Appleton (Lilly James), his childhood best friend and manager, convinces him to persevere.

Everything changes for Malik and the world when a blackout causes the entire world to go dark for twelve seconds, during which the hapless Jack gets hit by a bus. Somehow, the world changes and Jack does not. None of this is really explained, but there's no need — what makes the film so charming is giving into its premise in which Jack becomes the link between a vanished cultural phenomena and this new world.

What's missing from the world is the music of The Beatles, which — as far as Jack knows — only resides in his musically-addled head. Once he gets over the shock that he's the only one with any memory of Beatlemania, he begins to capitalize on his unusual status. Soon he's writing and performing classic Beatles' songs, which he produces in no particular order and at a moment's notice. During a 10-minute songwriting challenge with Ed Sherrin (most appealing as himself), Malik pulls off "The Long and Winding Road." A shocked Sherrin concedes with the words: "I'm Salieri."

Malik isn't quite the 20th century Mozart, but the film has much fun with his status as an effortless font of pop hits, most of which familiar to the audience, and performed by him in a likable indie folk manner. He is an overnight sensation, which he witnesses in a clever sequence in which his celebrity is chronicled on a number of immense video monitors. Richard Curtis's screenplay takes gentle, if funny swipes at the music industry. In one sequence a room full of industry flacks (led by Lamorne Morris) criticize Malik's choices for titles for his albums: "Sgt. Pepper's Lonelyhearts Club Band" is too long, and Morris (who is black) has "issues" with "The White Album." only (They come up with the blandest packaging for his album.) The most on-target satiric jab is Malik's new manager, the appropriately named Debra Hammer — a rapacious, self-absorbed corporate shark played to the odious hilt by Kate McKinnon.

She buoys the film's second half, which otherwise slips into predictable rom-com territory. This isn't surprising — Curtis is a master at this kind of comedy having written "Notting Hill," "Love, Actually"; what proves surprising is given the inventiveness of its premise, how easily he succumbs to such familiar tropes, turning the film into a choice between superstardom (and a lie) and living a conventional life (but with truth). It's sweet, but cheats the film of its promise. Nonetheless, Patel is enormously winning and sings the songs in an affecting, indie singer manner, which gives the numerous Beatles songs a freshness. The songs are not integrated, but when Malik takes to the stage in the climactic moment, it shouldn't be surprising that what he sings is a plaintiff "Help!"

Director Danny Boyle ("Trainspotting," "Slumdog Millionaire") keeps the action slick and lively, though there is little of his bravura style present. Nonetheless, there are some great comic sequences. One in which Malik's hopes to introduce to his parents to his music is a painfully funny, and another features McKinnon pushing the naive Malik into superstardom. With moments like this, and an unbeatable catalog of songs to fall back on, "Yesterday" is a slight comedy that's most easy to like.
Yesterday
Jack Malik is a struggling singer-songwriter in an English seaside town whose dreams of fame are rapidly fading, despite the fierce devotion and support of his childhood best friend, Ellie. After a freak bus accident during a mysterious global blackout, Jack wakes up to discover that The Beatles have never existed. Performing songs by the greatest band in history to a world that has never heard them, Jack becomes on overnight sensation with a little help from his agent.
Info
Runtime :: 116 mins
Release Date :: Jun 28, 2019
Language :: Silent
Country :: United Kingdom

Cast
Jack :: Himesh Patel
Ellie :: Lily James
Debra :: Kate McKinnon
Himself :: Ed Sheeran
Himself :: James Corden
Roxanne :: Ana de Armas
Rocky :: Joel Fry
Gavin :: Alexander Arnold
Head of Marketing :: Lamorne Morris
Wendy :: Camille Chen
Hilary :: Camilla Rutherford
Carol :: Sophia Di Martino

Crew
Director :: Danny Boyle
Screenwriter :: Richard Curtis
Producer :: Tim Bevan
Producer :: Eric Fellner
Producer :: Bernie Bellew
Producer :: Matthew Wilkinson
Producer :: Richard Curtis
Producer :: Danny Boyle
Executive Producer :: Nick Angel
Executive Producer :: Lee Brazier
Cinematographer :: Christopher Ross
Film Editor :: Jon Harris
Original Music :: Daniel Pemberton
Production Design :: Patrick Rolfe
Art Director :: Sophie Bridgman
Set Decoration :: Cathy Cosgrove
Costume Designer :: Liza Bracey
Casting :: Courtney Bright

Comments on Facebook