Watch: Full Trailer for Judy Garland Biopic with Renee Zellweger is Here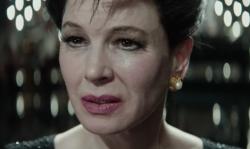 After teasing the upcoming Judy Garland biopic "Judy" in May the full trailer for the film, starring Renee Zellweger as the Hollywood icon, is now here.

Directed by Rupert Goold and based on the Tony nominated Broadway play "End of the Rainbow," "Judy" is set in the late '60s, during the last years of Garland's life. An official synopsis reads:

Winter 1968 and showbiz legend Judy Garland arrives in Swinging London to perform a five-week sold-out run at The Talk of the Town. It is 30 years since she shot to global stardom in The 'Wizard of Oz,' but if her voice has weakened, its dramatic intensity has only grown. As she prepares for the show, battles with management, charms musicians and reminisces with friends and adoring fans, her wit and warmth shine through. Even her dreams of love seem undimmed as she embarks on a whirlwind romance with Mickey Deans, her soon-to-be fifth husband. Featuring some of her best-known songs, the film celebrates the voice, the capacity for love, and the sheer pizzazz of "the world's greatest entertainer."

"Judy" also stars Finn Wittorck, Jessie Buckley, Rufus Sewell, Michael Gambon and more.

"When there's a better understanding of what it takes for a person to continue under certain circumstances there is a level of empathy and respect that you can't help but feel," Zellweger told People magazine in May. "What she had to overcome in a time when women didn't necessarily feel that they had power over their own lives in the way that we do today. That stayed with me and I hope folks will be moved by that as well."

Last year, Liza Minelli, Garland's daughter, made headlines when she took to Facebook to say that she doesn't "approve nor sanction the upcoming film about Judy Garland in any way."

Garland died in 1969 from an accidental drug overdose at age 47.

"Judy" hits theaters on Sept. 27. Watch the new trailer below.
Comments on Facebook