Harriet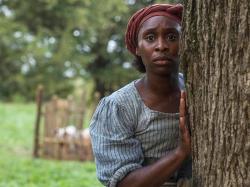 Available digitally today!

- - -

"Harriet" is a moving account of one woman's efforts to free enslaved African Americans in the Civil War era. I highly recommend this movie. The plot adheres to what is generally accepted by historians regarding Harriet Tubman's life as she decides that she must flee in order to be free and follows her liberation missions through the end of the Civil War. This production's vision of Tubman takes few liberties, and seems to use every scrap of known dialogue and scenes that can be reliably traced back to trusted sources. For the better-known engagements, the film delivers what it can. In its embellishments, it takes what has been attributed to Harriet Tubman and increases the emotional impact.

While there is not much violence shown directly on screen, the reasonable amount of violence that is shown (as well as threats) are portrayed mostly in their after-effects, with physical marks of brutality, suffering, death, and anxiety. Tension and intimidation hang heavier than the portrayed gore and devastation, highlighting the systematic oppression of slavery and its seemingly inescapable grasp. The pacing helps to refocus viewers by chopping the time period into more palatable chunks, instead of drawing out even more tension and pain.

The decision to keep the story focused on important moments during the nation's slow march to freedom, and one Black woman's contributions, creates a specific and beautiful through line. There are real and necessary personifications of joy here, not just in music and on people's faces, both in slavery and outside of it. Suffering is real, but so is freedom, and the dreams of freedom that exist in this constructed history. The film is at its best when using a combination of imagery and music to explore Harriet Tubman's origins and deep faith in God's will that she free as many slaves as she can, starting with herself.

I am grateful that we were spared the many pro-slavery arguments which exist, some of which use the Bible itself. I recognize that there must have been some temptation to explore these arguments; however, those types of sentiments are well-recorded in the annals of history, and it is clear from her life and words that Harriet Tubman did not agree at all. Cynthia Erivo's majestic voice, as well as her embodiment of an American hero, are well-chosen flourishes in a piece that advances Tubman's story during our current fractious moment in America, a time when we need heroes and inspiration.
Harriet
From her escape from slavery through the dangerous missions she led to liberate hundreds of slaves through the Underground Railroad, the story of heroic abolitionist Harriet Tubman is told.
Info
Runtime :: 125 mins
Release Date :: Nov 01, 2019
Language :: Silent
Country :: United States

Cast
Harriet Tubman :: Cynthia Erivo
Marie :: Janelle Monáe
William Still :: Leslie Odom
Gideon :: Joe Alwyn
Ben Ross :: Clarke Peters
Eliza :: Jennifer Nettles
Rit Ross :: Vanessa Bell Calloway
Bigger Long :: Omar Dorsey
Walter :: Henry Hall
Thomas Garrett :: Tim Guinee
Foxx :: Nick Basta
Robert Ross :: Joseph anderson
Henry Ross :: Antonio Bell
Junyah Ross :: CJ McBath
Jane :: Alexis Louder
Reverend Green :: Vondie Curtis-Hall
John Tubman :: Zackary Momoh
Rachel Ross :: Deborah Ayorinde

Crew
Director :: Kasi Lemmons
Screenwriter :: Kasi Lemmons
Screenwriter :: Gregory Howard
Producer :: Debra Martin Chase
Producer :: Daniela Taplin Lundberg
Producer :: Gregory Howard
Executive Producer :: Shea Kammer
Executive Producer :: Nnamdi Asomugha
Executive Producer :: Bill Benenson
Executive Producer :: Pen Densham
Executive Producer :: John Watson
Executive Producer :: Kristina Kendall
Executive Producer :: Elizabeth Koch
Executive Producer :: Charles King
Cinematographer :: John Toll
Film Editor :: Wyatt Smith
Original Music :: Terence Blanchard

Noe Kamelamela is a reader who reads everything and a writer who writes
very little.
Comments on Facebook