Review: Fans of Horror Will Want to Visit This 'Beach House'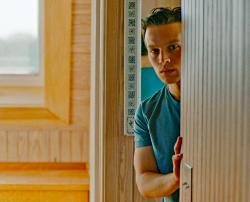 Coming to AMC's Shudder channel, "The Beach House" is one of the more entertaining horror flicks of the year so far. The film is definitely worth a theatrical run; the only drawback is an ending that doesn't quite live up, although the final moment is pretty cool.
Directed by newcomer Jeffrey A. Brown, "The Beach House" follows Emily (Liana Liberato) and Randall (Noah Le Gros — yes, actor James Le Gros' son) who go to Randall's family beach house for a few days to unwind.
The young couple is struggling with the responsibilities of what's to come in their lives, with Emily wanting to get her Master's Degree and Randall more unsure about his future.
After some spontaneous lovemaking, Emily goes downstairs to find they are not alone in the house. Old friends of Randall's' family Jane (Maryann Nagel) and Mitch (Jake Weber) have already settled in, as they expected the house to be empty. Plus they want to spend one last weekend before Jane — who is ill — isn't able to manage it.
The four decide to share the space and begin a light-hearted weekend together. But what do you know: There's something up with the ocean water, and it's making the air stink and also glow blue! When Jane goes to investigate and the rest of the group passes out, they wake up to a changed world.
The differences aren't apparent right away, but when Mitch and Jane start acting weird and Randall and Emily start having physical problems, it's clear they are dealing with a contagion that might be unstoppable.
Liberato is clearly the star here, giving an affecting tour-de-force performance that immediately makes you root for her. Le Gros plays disaffected and arrogant well, and let's face it, he looks good without a shirt on.
Nagel is pretty terrific, too, as the sick Jane, who goes through a few mental and physical transformations. But Weber seems like he's in another movie altogether, with line readings that seem almost too energized and weird.
But this is Liberato and director Brown's film all the way, and both prove they are talents to watch. This is Liberato's third film in the last three months ("Banana Split" and "To the Stars" being the other two), with roles that are never the same but always expertly played. She clearly has a long and compelling career ahead of her.
Same for Brown, who stages tension-filled sequences with heart-pounding or squirm-inducing fright. Having also written the script, he takes a simple premise and creates a well-rounded cast of characters that deal with the unknown as real people would. It's refreshing to see and even when things get a little out there, it's consistently engaging and horrifying in equal measure.
"The Beach House" is definitely a place horror fans will want to visit. If you can make it out alive.
Kevin Taft is a screenwriter/critic living in Los Angeles with an unnatural attachment to 'Star Wars' and the desire to be adopted by Steven Spielberg.
Comments on Facebook